Watermelon Festival by Oyama Community Market

A watermelon festival is regularly held at the time of harvesting around end of July or early August in the Oyama area.
| | |
| --- | --- |
| Date | Saturday, July 31st , 2021 (rain or shine) |
| | Morning market starts at 8:00 am |
| | Festival starts at 9:00 am |
| | |
| --- | --- |
| Location | Koda Shrine compound, Oyamakami, Tamba-Sasayama City |
| | (In front of the Oyamakami bus stop on Route 176) |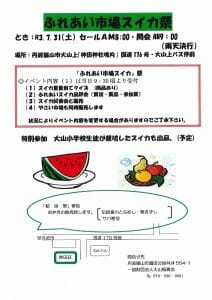 8:00      Sales of the watermelons and the local vegetables start
9:00   Enjoy the Watermelon Fair, Guess Watermelon weight, Watermelon quality competition
(Oyama Elementary School children will have a presentation about their watermelon cultivation
experience)
11:40      Watermelon tasting party
12:15       Festival Closing
* The programme and time may slightly change depending on the weather condition.
Event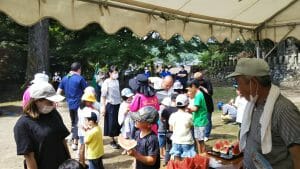 Guess Watermelon Weight has a prize!
Watermelon quality competition has award certificates and prizes!
Local vegetables will be sold at the venue.
【Watermelon that local elementary school students cultivated will be sold there too!】
You can't miss the local traditional food, Tofu-meshi!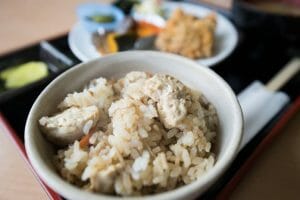 "Community Kitchen Yurari" was launched by the local women years ago as a part of regional revitalization with the local traditional food, Tofu-meshi in Oyama district of Tamba Sasayama City.
In fact, the store has been closed at the end of November 2018, however they will sell lunch boxes for one day only due to demand.
・ Traditional Tofu-meshi(see explanation below)
・ "Ofukuro-maki(literally Mothers sushi roll)" filled with delicious ingredients from Oyama
・ Mackerel sushi(Saba sushi)
Those items will be sold in a limited quantity.
◆ What is Tofumeshi? ◆
It is a ​cooked rice dish mixed with other ingredients. In case of Tofumeshi, the "other ingredients" are boiled and crushed firm tofu, chopped burdock, carrot, and fried tofu, with mackerel boiled in water as a secret ingredient and fried in soy sauce.
It is a local dish that has been handed down to three villages in Oyama area for last 120 years.
It is said that this dish always appears at athletic event or ceremonial occasions saying that " Where the people gather, Tofumeshi is always there ". It is also a menu for school lunches.
Basic information
| | |
| --- | --- |
| Address | 728 Oyamakami, Tamba Sasayama city, Hyogo prefecture |
| Access by bus | Shinki Green bus, the Oyama Kami bus stop (5 min walk from there) |
| Phone number | +81-79-596-0001 |
| Free parking lot | Available near Kodaso |
| Map | View on Google map |
| WEB site | Go to  Web site (only in Japanese) |