Tamba Sasayama Black Soybean Sweets Fair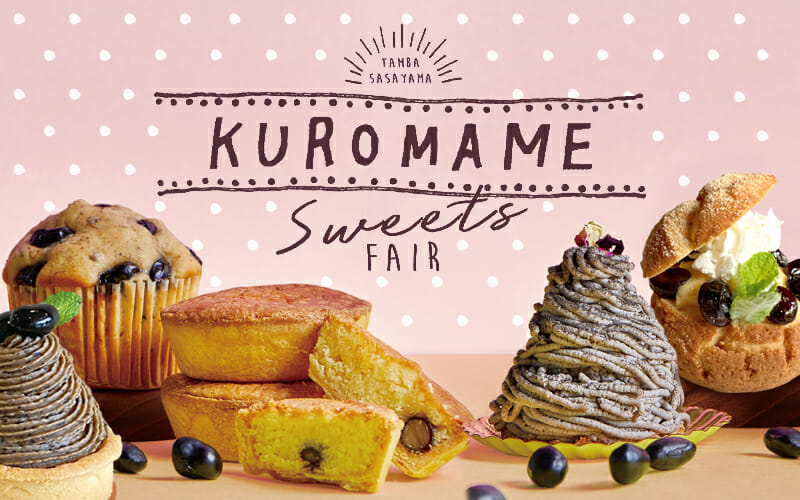 Tambasasayama Black Bean Sweets Fair 2022
Exquisite sweets using plenty of black soybeans from  Tambasasayama ♪
Black soybeans are a staple of Osechi-ryori, the Japanese traditional new year's dish, and Tambasasayama black soybeans are known as the highest quality.
The chewy texture of the large plump and the aroma of its kinako(soybean flour) are very tempting.  Moreover, Tambasasayama black soybeans are highly nutritious.  They are rich in isoflavones, anthocyanins (polyphenols), soybean peptides, and dietary fiber, therefore we strongly recommend to actively incorporate it into your daily diet.  Please enjoy the black soybean sweets that will make your body healthy and mind happy♪
Here is the list of the fascinating black soybean sweets that you can enjoy in Tambasasayama city!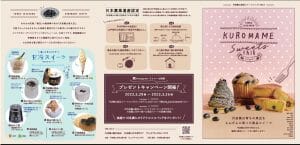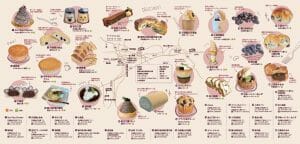 <
Instagram campaign
<Campaign period>
Saturday, May 28, 2022 – Sunday, March 26, 2023 
<How to participate in the campaign>
Follow Kuromame Sweets Fair Instagram Account @love_kuromame♫
Post an image of the black soybean sweets you ate in Tamba Sasayama city with the hashtag  "#TSBBSF"!
An original eco bag will be presented to 10 winner by lottery!
List of Sweets for the Fair
Shop name
Sweets name
Address (Tambasasayama City, Hyogo Prefecture)
Phone number

+81

Instagram account
Sun Rice Kitchen
Vegan Black Soybean Mont Blanc
319-3, Mukai
90-8335-6130
sun_rice_kitchen
Vegan Black Soybean Brulee
Baikakudo
Sasayama Tart (Black Soybeans)
78-1, Tatsumachi
79-552-1311
baikakudo
Tamba Sasayama Foods
Black Soybeans Monaka
131, Fukishin
79-594-4470
tanbasasayama.ice
Milk Ice Cream with Tamba Black Soybeans
Handmade cake shop
Alice
Black Soybean Madeleine
23-19, Sumiyoshidai
79-594-3963
aris1999.ooe
Tamba Black Soybean Pudding
Shishigin, Sue-no-Sato shop
Black Soybean Pound cake
c/o Sue-no-Sato,
3, KamitachiKui, Kondacho,
79-597-2173
shishiginsuenosato
Kokuzo
Black Soybean Coffee Jelly
c/o The Museum of Ceramic Art, Hyogo 4, Kamitachikui, Kondacho
79-590-3633
kokuzo_konda
Daifukudo
Black Soybean Daifuku
121-1, Kitashinmachi
79-552-0453
daifukudow
Nagomi Kobo
Tamba Sasayama Black Soybean Pudding
"Kuro-chan & Mame-chan"
503, Kawakita
90-3847-4096
kurochanmamechan
Black Soybean Agar Jelly
"Prun-chan"
Kumanoen
Handmade pound cake
with Roasted Black Soybeans Kinako & Walnuts
456, Ajimaoku
79-594-0162
www.kumanoen.co.jp
Uosai, Uepara
Black Soybean Gateau au Chocolat
Holonpia Hotel 5th floor,

76-4, Nakano

79-594-2767
uepara_sasayama
Yukioka Ichirobei Western confectionery shop
Tamba Black Soybean Cheesecake
13-1 Uoyamachi
79-558-7686
yukiokaitirobee
Tamba Sasayama Hyakukeikan
Tamba Parfait
58, Nikaimachi
79-552-5555
hyakkeikan
Taisho Romankan
Black Soybean Soft Serve
icecream
97, Kitashinmachi
79-552-6668
taishoromankan
Satoyama Kobo Kumobe
Black Soybean Mont Blanc
2-1, Nishihonjo
79-556-2570
satoyama_kumobe
Shaved Ice (Rosted green tea  flavor)
Cafe Kamotte
Black Soybean Souffle
91, Tatsumachi
79-552-0068
cafe_kamotte
Muffins & scones
fumu fumu
Black Soybean Muffin
24-1, Nikaimachi
Facebook
Odagaki Shoten
ODAGAKI Soft Serve Ice Cream
Black Soybean Kinako flavour
19, Tatsumachi
79-552-0011
odagakishoten
Black Soybean Warabimochi
(Until August)
Cafe Miki
Black Soybean Kinako Ice Cream
846, Gunge
79-552-3480
kissa_miki
Gobushisha Yamayu
Tamba Black Soybean Pie
81, Agake
79-590-1261
ryoriyayamayu
Kuromame no Yakata
Black Soybean Soft Serve Ice Cream
511-2, Shimoitai
79-590-8077
kuromamenoyakata
Sakamotoya
Sugar-glazed Black Soybeans
101-1, Tatsumachi
79-552-1018
sakamotoya.shop
Natural yeast bakery
Shirokara Gofun
Black Soybeans Kurokko
2, Ogawamachi
79-552-8881
shirokaragofun_pan
Midori-kan
Premium Bread
942-1, Higashibuki
79-590-1185
ja.tanbasasayama_midorikan
Restaurant
Anzu
Black Soybean Cream Puff
15-1, Uoyamachi
79-552-0501
restaurant_anzu
Konishi-no-pan Bakery
Konishi's Black Soybean Bread
23, Uoyamachi
79-552-0052
http://konishinopan.net/
Sasayama Grocery Store
Large Roasted Black Soybeans
54, Nikaimachi
79-552-1188
sasayamafoodshop
manie
Black Roll
889,Hadakasu
795-06-4548
manie_sasayama
Inquiry
<Planning and operation>
Tambasasayama Tourism Association @tb_sasayama
97 Kitashinmachi, Tambasasayama City, Hyogo Prefecture +81-79-506-1535
<Organizer>
Tambasasayama City Hall Commerce and Tourism Division @gururi_tambasasayama
41 Kitashinmachi, Tamba Sasayama City, Hyogo Prefecture +81-79-552-6907
Basic information