Tambasasayama, a town renowned for food and nature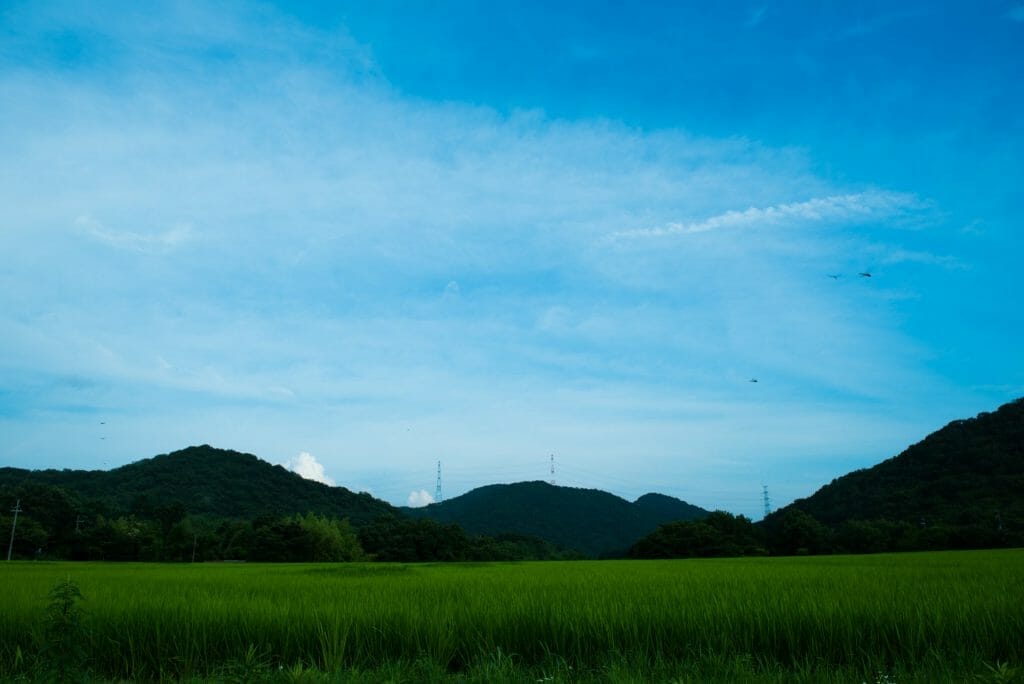 Tambasasayama is located in a basin surrounded by mountains. The crops produced in the climate typical of a basin are all excellent largely due to the fertile soil and the temperature differences between day and night.
Tambasasayama City has made a declaration as a city to nurture food safety and security for the future by making sustainable use of the natural environment that is characteristic of the city, and implementing further efforts as a pioneer of new agricultural methods.
The Food of Tambasasayama
Tambasasayama dried black soybeans
Here in Japan many people have heard of the "Tamba black." Tamba black are a variety of black soybean that is cultivated in the Tamba area. They are characterized by a larger size compared with other black soybeans. And not only are they big, but they are also highly valued for their delicious flavor and texture. They are also used symbolically to represent hard work and health in the traditional "Osechi" Japanese New Year food.
Tambasasayama fresh black soybeans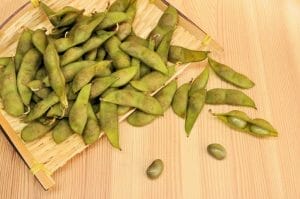 Black soybeans can also be eaten as Edamame (fresh soybeans on the stem) before they are dried to mature black soybeans. When fresh, they are characterized by their large size, flavor, and texture. In recent years, not only the dried black soybeans, but also the fresh green 'black' soybeans have become a sought-after delicacy. They are also known as "phantom Edamame" because they are in season for only about two weeks and so popular that they sell out quickly.
Tambasasayama yams
The round-shaped mountain yams are different from other yams such as Nagaimo and Yamato yams. They are characterized by their strong stickiness when grated. They are nutritious and can be baked, fried in oil, or grated. They are also useful as an ingredient in high-class Japanese sweets.
Tamba chestnuts
Tamba Ginyose, a type of chestnut, were described in the climate of the Tamba basin in the ancient Kojiki and Manyoshu writings. Among the many varieties of chestnuts, the Tamba chestnuts are exceptionally large and rich in taste. They have been transformed into abundant Japanese sweets such as chestnut breads, chestnut yokan (a jellied paste), and chestnut rice cakes, and have become a staple of Tambasasayama souvenirs.
Tambasasayama Koshihikari rice
In Japan, there is a popular variety of rice from the Niigata area, in the east of Japan, known as Uonuma Koshihikari. Rice from Tambasasayama, in the west of Japan, is also known as Koshihikari. Starch, which is indispensable for a delicious rice, develops in the rice best from the temperature difference between day and night. This kind of rice has a strong sweetness and stickiness, and it does not lose its umami even when cooled, making it ideal for rice balls and bento boxes.
Amochi taro
Taro* are cultivated in the Oyama area in the north part of Tambasasayama City. Compared with commonly cultivated taro, Amochi have a stronger stickiness and a "mochi" (chewy) texture. In the olden days, they were presented to the Sasayama clan. Recently, however, they were on the verge of disappearing due to low yield. In 2015, local volunteers raised awareness about its possible disappearance and began production again. In recent years it has become known as a 'new taste' from Tambasasayama.
* https://en.wikipedia.org/wiki/Taro
Wild boar meat
Tambasasayama is one of the three major hunting grounds in Japan for wild boar meat. The local meat is said to have a good fat content and is by far the best. The "Botan-nabe" (a wild boar meat "nabe" dish) has been selected as one of Japan's 100 best local dishes. You can enjoy its unique taste at restaurants in the city. They all have their own unique recipes and it's a pleasure to go around and discover your favorite recipe.
Tambasasayama beef
Kobe beef, which is rated as one of the top three Japanese-style beef meats in Japan, and Tambasasayama beef both have their origins in the famous Tajima beef. In Tambasasayama, Tajima beef cows are raised and fattened using "delicious" locally sourced feed, giving the beef excellent quality and flavor. It is considered to be the best Kobe beefs.
At the Tambasasayama Aji Matsuri (a tasting festival), roasted Tambasasayama beef is offered every year, with those desiring to try some forming a long line waiting for their turn.
Tamba tea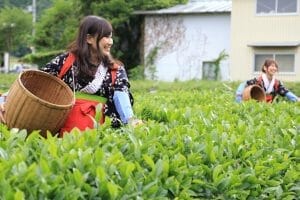 Tamba tea has a long traditional history and has been cultivated in the area since the Heian period (794 to 1185 AD) when it was presented to the imperial court. Tamba tea, which has a fragrant and refreshing taste, is still loved by many people.
Nature in Tambasasayama
Taki mountain range
The Taki mountain range is also called the Taki Alps and is named from the former Taki county. The main peak range is located in the north of the Sasayama Basin, centered on three peaks: Mitake (793 m), Nishigatake (727 m), and Koganegadake (725 m). An alpine route, which opens in May every year, is loved by many climbers. It passes through trees such as sumac, maple, zelkova, and oak. The incredible variety of leaf colors from early to late autumn is especially beautiful.
Sasami Shijuhachi Waterfalls
There are eight waterfalls that provide a lot of variety along a clear stream flowing from the Taki mountain range, such as Nagataki, which is about 33 m tall. The name Shijuhachi Falls, sounds like there are 48 waterfalls, but the name is a play on words. The word shiju, which means 40, has the same sound as a different kanji that has the meaning of constant. Hence, it expresses that the waterfall has a constant flow. The area is popular as an outdoor spot blessed with fresh greenery in summer, colored leaves in autumn, and a wide variety of nature.
Namikimichi Park
This natural park has a vast land space of 70.9 hectares. It is located in the northwest of Tambasasayama City. You can find Mt. Mishakayama with an altitude of 320m in the area, and you can see over the Sasayama Basin from the observatory. You can experience rice planting and harvesting in the terraced rice fields in the park, and there are woodworking craft experience events and a 'Marche' (flea market plus food and more) event. In fact, there are many different events in their yearly calendar for you to participate in and enjoy.
It's a park facility with abundant nature where you can leisurely spend your weekends.
Keikokunomori Park
This camp facility is located in the south of Tambasasayama City. There are 7 large cottages with kitchens and baths. It is preferred by outdoor enthusiasts who take advantage of a barbecue house and day camp space including 24 auto campsites. It is a popular facility where mountain streams flow and promenades are maintained, making it difficult to secure a reservation during the summer camp season.
Forest Adventure Tambasasayama
This outdoor athletic facility has 51 activities, making it the largest in Japan. It is located in the Taki mountain range between Mitake and Koganegadake. The activities are located off the ground up among and between the trees in the forest. Although the difficulty level is a little higher, they have introduced Japan's first safety equipment for such activities. The 20 m high and 100 m long slides are thrilling and can be enjoyed as you are flying past the natural trees of the forest.
The Sasayama Basin is rich in nature and surrounded by green mountains. From autumn to winter, the morning fog (called 'Tamba Giri' which means Tamba fog) that covers the city is thick, and when you look at it from the mountains, the town of Sasayama sinks into a sea of clouds, creating a fantastic view. The clear streams flowing from the mountains run into the Sasayama River, which crosses the city, giving the fields a rich water vein. This unique climate nurtures many culinary delights and supports the food culture of Tambasasayama, which has been called the food capital of Japan from ancient times.