Gyuya Tanaka / Niku-no-Bun (Tamba Tanaka Chikusan)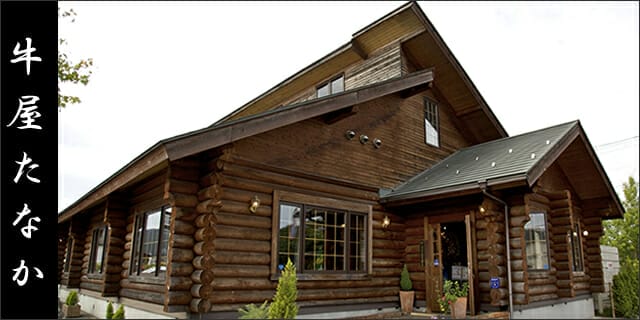 A food culture unique to Tambasasayama.
TAJIMA BEEF and KOBE BEEF are the top quality Japanese black beef that Japan is proud of to the world. Beef cattle are raised under the blessed nature and climate of Tambasasayama in Hyogo prefecture .
At Tamba Tanaka Chikusan, we are cherishing and lovingly nurturing the cattle by making full use of carefully selected feed and advanced fattening technique.
We carry out everything, from production to sales and serving meals at our restaurant.
From nurturing to sales: our unique integrated system
At Tamba Tanaka Chikusan, we provide our products under our own integrated system.
TAJIMA BEEF, which is acclaimed as the pinnacle of Japanese black beef, is produced and fattened at our own ranch, sold at the direct sales store Niku-no-Bun, and served at the directly managed restaurant Gyuya Tanaka.
TAJIMA BEEF raised carefully here in Tamba Sasayama is also called Tamba Sasayama beef and attracting many fans.
Delicious work of art KOBE BEEF
TAJIMA BEEF originated in the Tajima region of Hyogo prefecture. It is considered to be the pinnacle of Japanese black beef, and is used as a breeding cow for improving WAGYU(Japanese beef) breeds all over the country .
With the love and efforts of designated producers in Hyogo prefecture, pure-bred TAJIMA BEEF calves are carefully bred and fattened.
The number of calves that can be fattened annually is limited.
Slowly raised TAJIMA BEEF is shipped to a meat center in Hyogo prefecture, and after all BSE inspections, it is evaluated under strict quality standards.
Only selected beef can get the title of KOBE BEEF. They get checked and rated according to the following:
●Yield grade which indicates the ratio of edible portion from one cow : A to C,
●Meat quality grade which indicates comprehensive evaluation of color, fineness of meat dough, quality of fat, etc. of the meat : 1 to 5
●Marbling Degree (BMS): No. 1 to 12
Only the ones that has a high score of those criteria can get the title of "Kobe beef" .
The best part of the deliciousness of KOBE BEEF lies in the highest quality lipids, which ave a low melting point that melts even at the temperature of human skin. Marbled or sashi, the harmony of the refined fat flavor rich in oleic acid and inosinic acid blends with the fine lean meat, which attracts gourmets all over the world.
Direct sales shop Niku-no-Bun
At Niku-no-Bun, we offer carefully selected beef that is fresh, delicious, and safe.
Please enjoy the unique taste of the production from our directly managed ranch.
You can place an order by phone or fax.
【Shoulder loin】
We will slice it for shabu-shabu and sukiyaki.
( 1,180 yen – 1,580 yen / 100g  excluding tax)
【Chuck Flap】
We will slice it for shabu-shabu and sukiyaki.
( 1,180 yen – 1,890 yen / 100g excluding tax)
【Sirloin】
We offer Tajima beef A4 rank –  Kobe beef A5 special rank.
(2,000-2,500 yen / 100g  excluding tax)
【Homemade croquette and minced meat cutlet】
Everything is handmade.
・ 400 yen for 5 croquettes (excluding tax)
・ 600 yen for 5 minced meat cutlets (excluding tax)
Niku-no-Bun
Location:
403-2 Agake, Tambasasayama City, Hyogo Prefecture
(diagonally across the road from the Gyuya Tanaka)
Phone number:
+81-79-594-2919 (Reception 9: 00-19: 00 * Excluding holidays)
FAX Number:
+81-79-594-2908 (Reception 24 hours a day)
Business hours:
9:00 – 19:00
Regular holiday:
Wednesday (January is closed. Also there maybe some temporary closure due to store maintenance, etc.)
Restaurant 《Gyuya Tanaka, Grilled Beef Lodge 》
Our hospitality is to offer the best taste and high quality relaxation to the customers.
At our directly managed restaurant Gyuya Tanaka, you can relax and enjoy the deliciousness of the finest TAJIMA BEEF and KOBE BEEF, when you eat yakiniku, steak, sukiyaki, and shabu-shabu.
The rice served at Gyuya Tanaka is produced by the Agri-Healthy Farm. They grow their crops mainly in the Tannan area of ​​Sasayama City.
The founder of the Agri-Healthy Farm, Shigeo Hara, has been practicing organic farming for decades.
Based on the high trust that we have built over the years, both inside and outside the region, our successor, Tomohiro Hara, is now working hard to research and practice delicious and healthy rice with the motto of 'safety, security, and honesty.'
Our cows are also part of the farm cycle.
Here at Gyuya Tanaka, please enjoy the rice from Agri-Healthy Farm that comes with their confidence and pride, along with the safe and high-quality Sasayama beef from us.
We offer Botan Nabe for a limited period of time.
Please enjoy the wild boar meat that ran around wild in Tamba Sasayama mountains with our special homemade miso.
・ Botan Nabe      5,040 yen per person
・ Scheduled sales period: From October to the end of April
[※Not available this season(2021-2022).]
Basic information
Business information
Business hours
11: 00 ~ 22: 00

(weekdays) 11: 00-14: 00, 17: 00-22: 00
(order accepted till 21:30)
(Weekends and holidays) 11: 00-22:00
(order accepted till 21:30)

Number of seats
1F: 72 seats
2F: Up to 30 people
(* 2F seats cannot be used for grilled meat)
Credit card payment
Various credit cards can be used.
Remarks
Reservations on weekends and holidays are accepted only on the 2nd floor.
Regular holiday
Tuesday