Tambasasayama City Historical Museum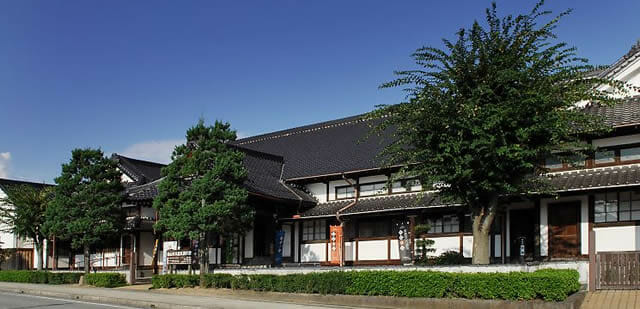 The main building of the Tambasasayama City Historical Museum was built as the Sasayama District Courthouse in 1891. It is the oldest wooden courthouse in Japan. An important local building, it was used for its original purpose, as a courthouse, until June 1981. The exterior and the old courtroom have been preserved in their original form. The remainder of the building has been renovated to suit the museum.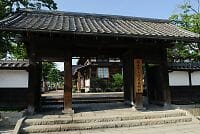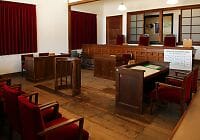 People have inhabited the Sasayama region since the Jomon period thousands of years ago. From the Yayoi period(1,000BC to 800BC) to the Kofun period(300AD to 600AD), a group that was very powerful and directly connected to the central power in Japan resided in Sasayama. It is clear from the existence of the Kurumazuka burial mound that from ancient times to the Middle Ages of Japan, this area has always played a central role in the historical region of Tamba. (Tamba was at that time an independent nation.)
In 1609, early in the modern period, Sasayama castle was constructed by the order of Ieyasu Tokugawa. The entire current Tambasasayama City area, which was formerly the Taki County, prospered as the capital of Tamba. In the Sasayama region, which has a rich history, a wonderful cultural heritage that has been cultivated through people's lives in each era has been preserved and handed down to us along with its splendid natural beauty.
On display in the main building, you will find Ojiyama Pottery from a high-quality porcelain kiln, which was opened as the Sasayama public kiln at the end of the Edo period. In the same building you will also find on display works of art such as armor, lacquer art, and paintings that have been handed down to us, along with the once buried cultural assets that show the cultural past of this region. We hope you will visit this museum, housed in a valuable Meiji architectural style building.
Basic information
Postal code
〒669-2322
Street address
53 Gofukumachi, Tambasasayama City, Hyogo Prefecture
Phone number
+81-79-552-0601
Parking lot
Available
Access by train and bus
Go to the Sasayamaguchi Station on the JR Fukuchiyama Line and take a bus to the Nikaimachi bus stop. It's a 15-minute walk to the Historical Museum from there.
Access by car
About 10 minutes east from the Tannan Sasayamaguchi Exit from the Maizuru-Wakasa Expressway.
Open hours
9: 00 to 17: 00
Remarks:  Entry until 16:30
Closed
Mondays and over the New Year holiday
Mondays that are holidays:  Open on Monday holidays and closed the following day
Tourist spot information
Fees
Adults: 300 yen, High school and university students: 200 yen, Elementary and junior high school students: 100 yen
(Group discount for 30 or more people: Adults: 250 yen, High school and university students: 150 yen, Elementary and junior high school students: 50 yen)Also available as a set:
The set of tickets includes the following: Tambasasayama Historical Art Museum, Anma Family Museum (samurai residence), Aoyama History Village, and the Sasayama Castle Oshoin Palace.
Adults: 600 yen, High school and university students: 300 yen, Elementary and junior high school students: 150 yen
・ Ticket sets are valid for 2 days.
・ Prices may vary when the Museum holds a special exhibition.
Special admittance
Admittance is free for the following individuals.
① Those who have been issued a physical disability certificate, nursing certificate, or mental disability health and welfare certificate
② Those under 6 years old accompanied by a parent or guardian
③ Elementary and junior high school students who are residents of Tambasasayama City
④ Japan Museum Association membership card holders
⑤ Those who have a Hyogo Culture Pass
Map: View on Google map
Web site: Go to Web site