Imperial Villa (Goyotei Sasayama)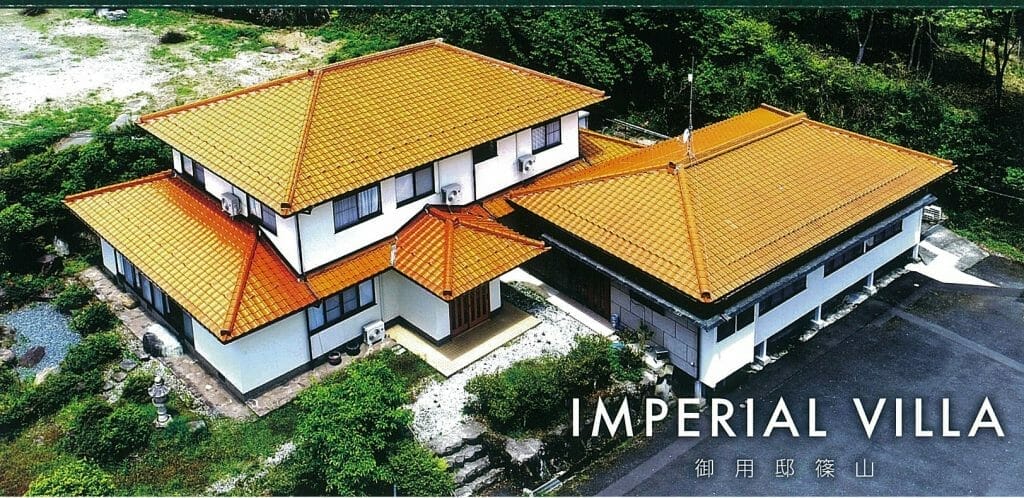 You can rent a whole building, with 48-tatami-mat multipurpose room and a yakiniku facility
Men's and women's toilet / bathroom / spacious dining kitchen
With family, relatives, or private group.
Since the entire building is reserved, only people close to you can stay.
The 48-tatami-mat multipurpose room can be used for meetings, playrooms for small children, indoor activities, etc.
It is fully air-conditioned!
There is a full-scale yakiniku facility on the premises.
Outdoor Multipurpose Space is ideal for BBQ and outdoor play.
(Click the image to enlarge)
The spacious dining kitchen has two sinks, so it is easy to cook at the same time.
The dining room has a table for 8 people.
Both men and women have their own toilets and bathrooms. Toilets are installed on each floor, and the wash basin in the dressing room is a shampoo dresser*.
*A 'shampoo dresser' is a large size sink basin with a showerhead so that you can wash your hair without taking off your clothes .
There are 5 twin bedrooms. Please contact us for extra beds/futons.
Basically, one group can use a whole building for private use.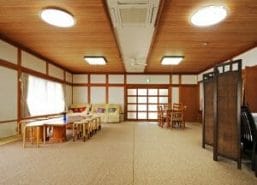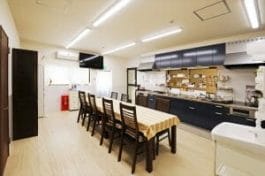 [Price] without meal
Adults      4,180 yen (tax included)
Children  2.750 yen (tax included)
Amenities
A set of futons for the number of users (beds, comforters, sheets, pillows, blankets only in winter)
Shampoo, conditioner, body soap, towel, hair dryer
A set of tableware and cooking equipment (refrigerator, gas stove, microwave oven, toaster, rice cooker, electric kettle, pot, frying pan, detergent, sponge)
Seasonings (a certain amount of sugar, salt, oil, soy sauce are available)
Children's supplies (tableware for children, step ladders, training toilet seats)
Note: Please let us know at the time of booking if you would like to use them.
Equipped with FREE Wi-Fi (password will be provided at check-in)
Please lay out the futon yourself. Children younger than 6 years old are expected to sleep with a parent and no futon is provided.
Please wash the tableware and cooking utensils after use and return them to their original places.
You can drink the tap water.
We do not have toothbrushes, nightwear, body wash sponges, combs, or razors for shaving. Please bring your own.
Other remarks (Notes on stay)
・Because of our location being in a countryside, insects can be seen on a daily basis especially in the summer.
・Insects may come indoors as well. If you do not like them coming indoors, please bring an insect repellent spray.
・Please be sure to let us know if there is any damage or malfunction in the equipment in the facility. You may be required to pay the cost of restoration.
・The staff will dispose the garbage. Please cooperate with the garbage separation that the staff will instruct when you  check-in.
・Do not leave trash outdoors at night.
・You are responsible for putting out fires when you do barbecues and fireworks etc.
・No smoking in the building. You can smoke outdoors (where there is an ashtray).
・Please use the safe / safety box for valuables.
・We are not responsible for theft of your vehicle, or theft, accidents, damage, etc. in the facility.
Basic information
| | |
| --- | --- |
| Postal code | 〒669-2367 |
| Address | 322 Kumagaya, Tambasasayama City, Hyogo Prefecture |
| Phone number | +81-79-594-1095 |
| Map | View on Googlemap |
| Website | To website |
Accommodation information
| | |
| --- | --- |
| check-in | 15:00 |
| check out | 10:00 |