Kaseidou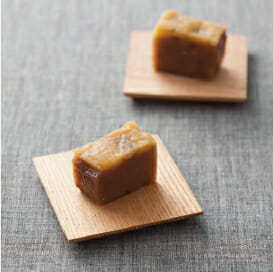 Chestnut sweets accounts for 80% of Kaseidou's product. Among those sweets, Kuri Mushi Yokan or the steamed chestnut paste dessert is the top selling product. It is  made only from chestnuts.
It has been popular for last 20 years, devised by Mr. Shigeki Hata, the third generation who wants to pursue delicious chestnuts, and spread by word of mouth.
After studying Japanese sweets and Western sweets at a confectionery school in Tokyo then getting further training at a Japanese sweets shop, Mr. Hata took over the local shop in Sasayama.
"You can never tell the taste of chestnuts until they're opened," he said. He ate and compared chestnuts from all over the country, including Tamba chestnuts. He should know what he's talking about, so this is the must-visit shop for chestnut lovers.
There is a rest area in the store with free tea service, so you can try the chestnut sweet right after you buy it.
Basic information
| | |
| --- | --- |
| Postal code | 〒669-2335 |
| Address | 59 Inuishinmachi, Tambasasayama City, Hyogo Prefecture |
| Phone number | +81-79-552-0314 |
| Business hours | 08: 30 ~ 18: 00 |