Okuei, Wild boar specialty store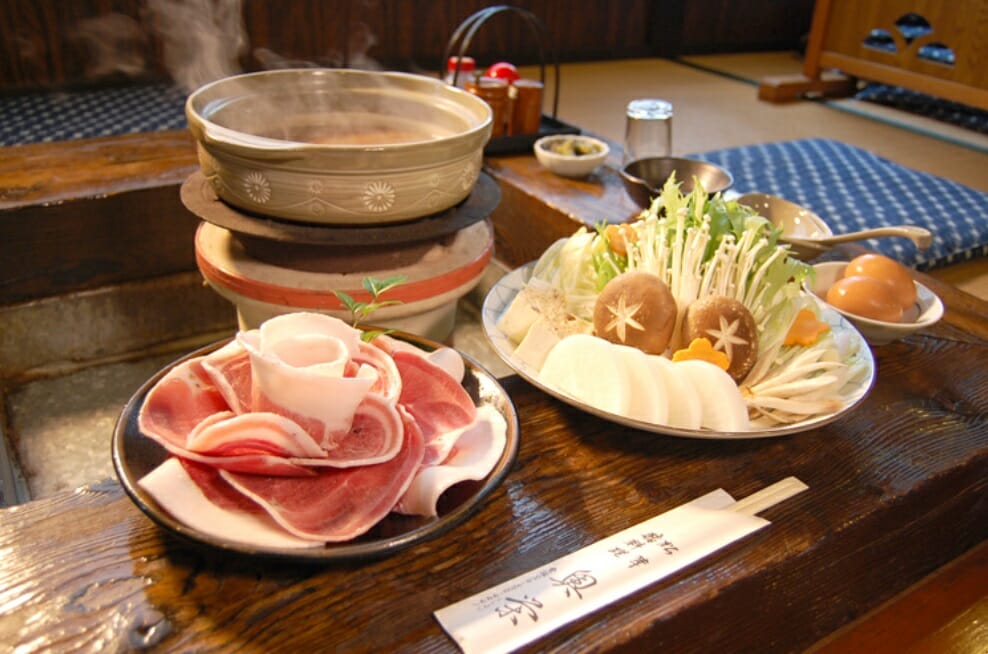 We Get fresh meat all year round, because we are the wild boar specialty restaurant!
A shop that appears when you go a little deeper in Tambasasayama (towards Fujioka Dam).
The nostalgic appearance and scenery make you feel as if you have traveled back in time.
The time that flows slowly envelopes you.
The hearth-style tatami room, table seats, the atmosphere and the interior of inside the store are outstanding. When you breathe in the air of the shop, you are ready to eat Botan nabe!
The wild boars we serve are the ones we raised on a directly managed ranch and the ones that hunting club in Sasayama hunted, so you can enjoy the tender wild boar meat without any odor whenever you eat.
;
Botan nabe
Tender and rich wild boar meat from Tambasasayama! Authentic Botan nabe is completed by slowly cooked fresh wild boar meat and homegrown vegetables in a pot with homemade miso soup stock. Botan nabe, which is a mixture of wild boar and vegetables in a light miso soup stock, is the best taste that everyone can appreciate!
・ Okuei's proud Botan nabe ¥ 5,500 per person
Grilled wild boar meat
Grill and eat fresh wild boar meat! Have you ever tried the grilled wild boar?
A light taste that is different from beef or pork. Eating a few grilled pieces before the hot pot is a luxurious way to enjoy it.
・ Wild boar meat ¥1,100 yen per person
Seared venison
Venison is low in calories and high in iron. Please make a reservation as it may not be available on the day.of the event.
Basic information
| | |
| --- | --- |
| Post code | 〒669-2369 |
| Address | 492-5 Fujiokaoku, Tambasasayama City, Hyogo Prefecture |
| Phone number | +81-79-552-4441 |
| Parking Lot | Available |
| Map | View on Google Map |
| Website | To the website |