Sasayama Castle and Oshoin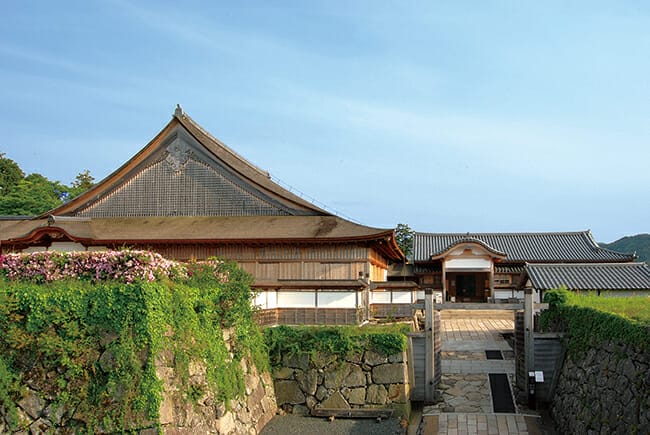 The Oshoin Palace was built at the same time as the Sasayama Castle in 1609. Sadly, it was burnt down on January 6, 1944, but was rebuilt in March 2000 through the generous donations and enthusiastic wishes of the citizens of Tambasasayama.
Features of the Oshoin Palace
The Oshoin Palace is a very large wooden building. Among similar existing buildings, it is comparable to the Ninomaru Goten Tozamurai in Nijo Castle, Kyoto. The palace of Nijo Castle is the highest class of building and was where the Shogun stayed when he traveled to Kyoto. That means that the Oshoin Palace has an exceptional scale and grandeur in a traditional architectural style considering that it was just an administrative palace for a feudal lord.
Scale of the Oshoin Palace
In restoring the Oshoin Palace, a comprehensive academic survey of old drawings, old photographs, and excavations. was carried out. Based on the results, designing and construction were carried out and completed in March 2000. The restored building is a one-story building with the north gable side being the front of the building. It has a floor area of 739.33 square meters, a building height of 12.88 meters, and a gabled roof with wooden shingles.
About the raised floor area
The raised floor area is the most prestigious place in the palace and measures 6.9 m in width. There is a fixed writing table in the outer corner of an exquisitely styled alcove on the left, a styled built-in bookshelf on the right, and an ornamental formal entry doorway. It is believed that the style for decorating these tatami rooms was established around the time of Keicho (1596-1615), when the Oshoin Palace was built. In order to reproduce the atmosphere of the past, paintings by the Kano school painters in the early Edo period on folding screens are used as background pieces.
Oshoin Palace
A panel display of events in the Sasayama domain during the Edo period is provided.
Exhibition room
This room explains the Sasayama Castle construction, the formation of the castle town, the transition of the feudal lord, etc., using a model of Sasayama Castle along with panels and historical materials.
Theater
A video production called "Sasayama Castle Story" is shown here. The story introduces the historical background and construction of Sasayama Castle. Japanese language only. (Aired every 15 minutes from 9:30 a.m.  English subtitle version is available upon request in advance)
Guides
Guides are available to give tours. Reservations are required. Japanese language only. (Note: 2021 During the current Covid situation tour guidance is unavailable.)
Basic information
| | |
| --- | --- |
| Postal code | 〒669-2332 |
| Street address | 2-3 Kitashinmachi, Tambasasayama City, Hyogo Prefecture |
| Phone number | +81-79-552-4500 |
| Parking lot | A pay parking lot is available. |
| Access by train and bus | Go to the Sasayamaguchi Station on the JR Fukuchiyama Line and take a bus to the Nikaimachi bus stop. It's a 5-minute walk to Oshoin Palace from there. |
| Access by car | About 10 minutes east from the Tannan Sasayamaguchi Exit from the Maizuru-Wakasa Expressway. |
| Map | View on Googlemap |
| Website | To website |
Business information
Open hours
9: 00 to 17: 00
Remarks:Entry until 16:30
Closed
Mondays and over the New Year holiday
Mondays that are holidays: Open on Monday holidays and closed the following day
Fees
*No fee is required for the area outside of the Oshoin Palace

Oshoin Palace Admission:
Adults: 400 yen, High school and university students: 200 yen, Elementary and junior high school students: 100 yen

(Group discount for 30 or more people: Adults: 300 yen, High school and university students: 150 yen, Elementary and junior high school students: 50 yen)

Also available as a set:

The set of tickets includes the following: Sasayama Historical Art Museum, Anma Family Museum (samurai residence), Aoyama History Village, and the Sasayama Castle Oshoin Palace.
Adults: 600 yen, High school and university students: 300 yen, Elementary and junior high school students: 150 yen
・ Ticket sets are valid for 2 days.
・ Prices may vary when the Sasayama Historical Art Museum holds a special exhibition.

Special admittance:

Admittance is free for the following individuals.
① Those who have been issued a physical disability certificate, nursing certificate, or mental disability health and welfare certificate
② Those under 6 years old accompanied by a parent or guardian
③ Elementary and junior high school student who are residence of Tamba Sasayama City
④ Japan Museum Association membership card holders
⑤ Those who have a Hyogo Culture Pass