Sasayama Ebisu [at Kasuga Shrine]
Get a Kiccho at Sasayama Ebisu and wear a big smile like Ebisu!!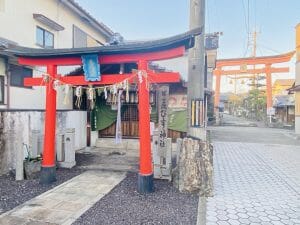 Ebisu is a deity of business, prosperity, and good health. On January 9th and 10th every year, a festival is held at the shrine to get a blessing from Ebisu. People buy special ornaments which represent treasures of the deity and bamboo branch with ornaments, which are to bring good fortune. The festival is particularly very popular among the people who runs business to receive a blessing for the year.
In Tambasasayama, there is a small shrine that enshrines Ebisu by Kasuga shrine. You will hear cheerful music throughout the shopping street.
Date: [Festival-eve] January 09, 2022 (Sun)
[Main Festival] January 10, 2022 (Monday)
Time: 9:00 to 18:00
Sasayama Ebisu Shrine is located on the front path to lead to Kasuga Shrine.
You can pray for business prosperity, family safety, good health, and success.
They also sell Kiccho, amulets, and talismans.
■ We will accept the Kiccho and amulets from last year to put away. Please make sure to bring them with you when you come.
■ We will give the Gofukuzeni( lucky coin) to the first 500 people who visit the shrine.
Basic information
Post code
〒669-2331
Address
21 Nikaimachi, Tambasasayama City, Hyogo Prefecture
Access (train / bus)
20 minutes by bus from JR Sasayamaguchi Station

At Sasayamaguchi station on the JR Fukuchiyama line, take a Shinki Green Bus from terminal ②, and get off at the Kasuga Shrine bus stop.

Access (car)
About 8 minutes from Maizuru Wakasa Expressway 'Tannan Sasayamaguchi' IC
Map

View on Google map