Sue No Sato, Tamba Traditional Craft Park in the Tachikui Pottery Town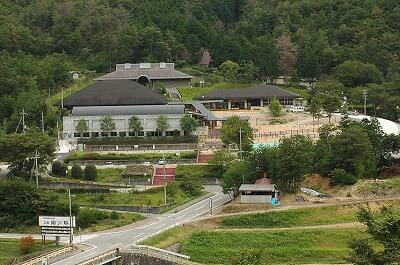 Tamba is one of the six old kiln sites in Japan, along with Seto, Tokoname, Shigaraki, Bizen, and Echizen.
At the Tachikui Sue no Sato Tamba Traditional Craft Park you can get to know and experience Tamba-yaki pottery. In addition to large and small conference rooms that can accommodate up to 45 people, Tamba-yaki pottery is displayed and sold at the Kamamoto Yokocho, and pottery classes and a restaurant are available.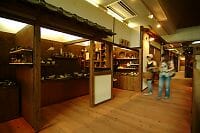 Tamba-yaki pottery represents a culture with a long history and high technical standard. The Tachikui Sue no Sato shows how Tamba-yaki pottery developed over its 800-year history through the Heian, Kamakura, Muromachi, and early modern periods. Works from many individual kilns are exhibited and sold on the spot at the Kamamoto Yokocho and pottery classes are held.
Characteristics of Tachikui climbing kilns
Tamba-yaki pottery has a long history that is said to have already begun by the end of the Heian period. Fire is used to transform earth to beautiful vessels. This is an art of earth and flame, and the Nobori Gama (climbing kilns) of Tachikui have a unique structure not seen in other parts of Japan.
Tamba-yaki pottery begins with clay extraction followed by processes such as wetting, clay separation, raw clay preparation, wedging, shaping, trimming, drying, bisquing, and high-firing. Currently, the main focus is on shaping on a potter's wheel, and both kick wheels and electric wheels are used. In Tachikui, the rotation of the potter's wheel is counterclockwise, which is also a feature of Tamba-yaki pottery. (Clockwise throwing is more common in Japan.)
Basic information
| | |
| --- | --- |
| Postal code | 〒669-2135 |
| Address | 3 Kondacho Kamitachikui, Tambasasayama City, Hyogo Prefecture |
| Phone number | +81-79-597-2034 |
| Parking lot | Available |
| Map | View on Google Maps |
Business information
Open hours
10: 00 to 18: 00

Remarks:  Hours are 10:00 to 17:00 from October 1 to March 31.

Closed
Over the New Year holiday
December 29 to January 3
Fees
Admission
High school students and above: 200 yen
*Groups or 20 or more: 160 yen
Elementary and junior high school students: 50 yen (No group discount is available)Remarks:
Admission is half price for individuals who have been issued a physical disability certificate, nursing certificate, or mental disability certificate.