Suwaen Main Store, Tea and Japanese sweets specialty store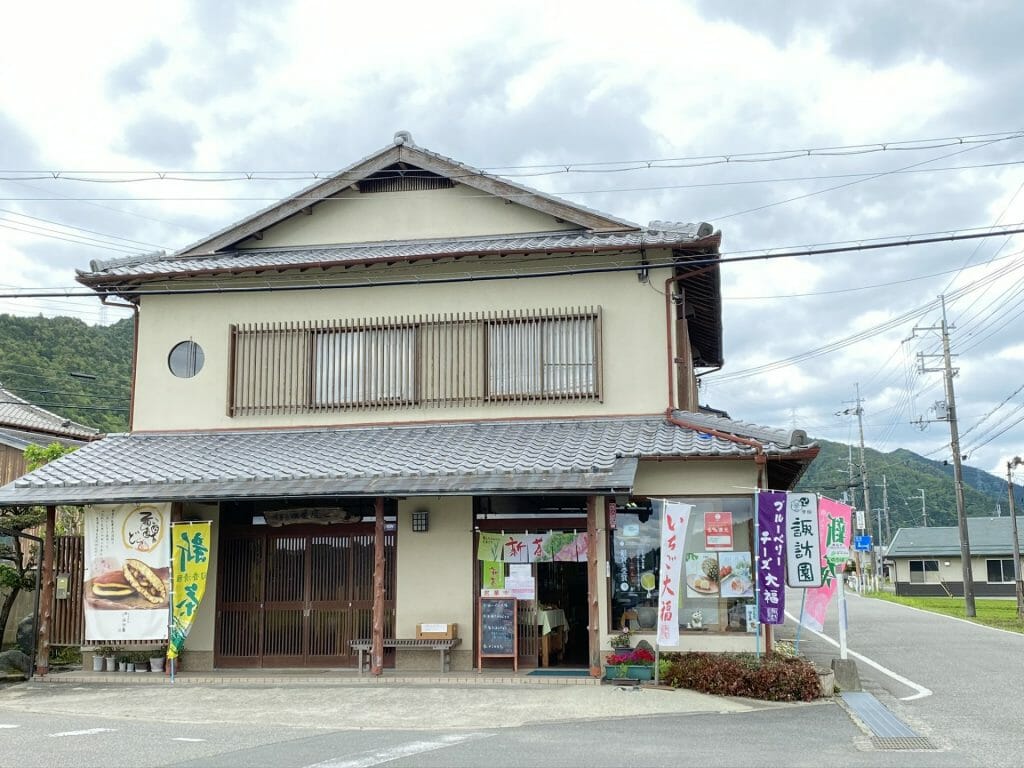 Very unique Japanese sweets, creating flavors with the selected ingredients
This store is specializing in tea and sweets.
Tamba Sasayama is known as the lowest average temperature tea-producing region in Japan.
The flavor of Tamba tea is also unique, sweet and of high quality.
It was around 1965 that Suwaen started cultivating and manufacturing tea at this Tamba tea (Ajima tea) village. Since then, the tea plantations that have been cultivated through tireless research and efforts have grown high-quality tea leaves, and have received numerous awards, including the
Minister of Agriculture, Forestry and Forestry Award eight times, and the Silver Award at the Japanese Tea selection Paris in 2019.
We have also started manufacturing and selling Japanese sweets, using seasonal ingredients from Tamba in each season and fresh and pure natural water.
Traditional Tamba tea made from traditional tea fields
The Tamba Tea Garden is located in the Tamba Kogen Gorge, and is one of Japan's leading tea-producing regions along with Uji, Ise, Shizuoka, and Sayama.
Tamba tea has a long history and has been cultivated since the Heian period(794-1192). In Ajima (Tamba Sasayama City), it has been producing tea since the Asuka period(593-710), so you can say this area is a pioneer in tea cultivation.
Nowadays, Uji tea became so famous and Tamba tea is not so well known, but it was presented to the imperial court during the Heian period, and it covered half of the consumption in Osaka during the Edo period.
Tamba tea inherits the techniques and traditions of its ancestors and is shipped to various places as a representative product of Hyogo prefecture, and is highly evaluated by tea connoisseurs for its elegant aroma and deep taste.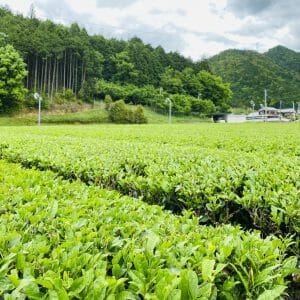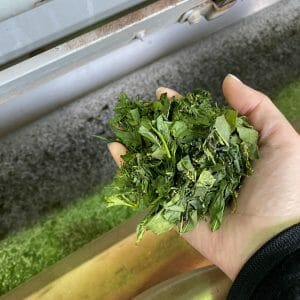 The secret of the delicious taste and flavor of Tamba tea is the climate.
In the Tamba region, Tamba fog occurs from morning to noon.
The sunlight required for growth also produces astringent ingredients, but the deep fog blocks the sun, making the tea sweeter and more delicious.
In addition, this area is the production center of tea with the lowest average temperature in Japan.
The growth of leaves is suppressed by the cold, and it grows while slowly accumulating umami.
The black rich soil has a lot of ore and abundant nutrients. It is also light and well-drained, so the tea grows healthy.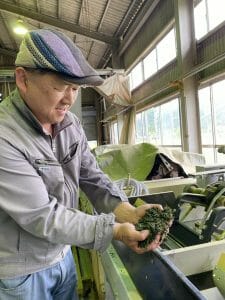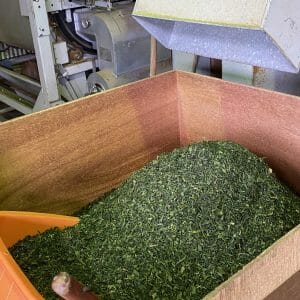 At Suwaen, we emphasize the high quality and the unique taste of Tamba tea. In addition to being safe, we place importance on 'quality rather than quantity' so that you can purchase with confidence. Also, by consistently performing everything, from cultivation to processing and sales, we are practicing the tea making that we aim for.
The tea has a sweet aroma and a refreshing taste with no unpleasant taste.
We offer genuine Tamba tea that is not blended.
At the competition, we received the Minister of Agriculture, Forestry and Forestry Award eight times in total.
The most popular one is Karigane with Matcha.
The reason of the popularity of this product is its refreshing fragrant and taste. Please try and see if you like it.
Introducing seasonal sweets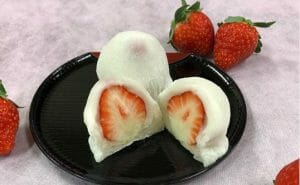 <Spring>
◎ Ichigo Daifuku: Fresh strawberries wrapped in white bean paste cooked in fresh water from Tamba and gently wrapped in soft mochi. We carefully select and use the most delicious strawberries for this Daifuku. Please enjoy the exquisite harmony of strawberries and rice cakes.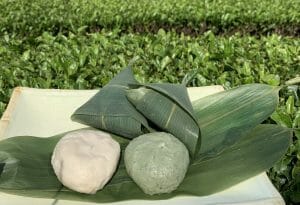 <Summer> 
◎ Nama-Fu Manju ・ ・ ・ It is an unbaked confectionery with bean paste filling wrapped in wheat starch in place of flour dough. Nama-Fu from Kyoto is the main ingredient, which is said to be difficult to cook. The original taste of Nama-Fu is kept as it is, and it is finished as a bun by craftsmanship. Please enjoy the chewy and elastic texture. The white one is bean paste with Yuzu inside, and the green one is made of Japanese mugwood with Azuki bean paste inside. *Nama means unbaked or raw, Fu is wheat starch.
◎ Authentic Warabimochi, Pineapple Daifuku, Kiwifruit Daifuku, Mizumanju, Kuzumanju, Sasa Ayu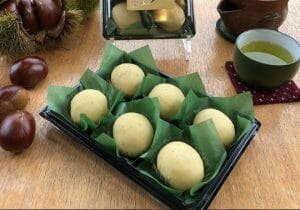 <Autumn>
◎ Kuri(Chestnut) mochi ・ ・ ・ Tamba's fresh chestnuts that have grown abundantly. It is an autumn-only gem made with craftsmanship, valuing the flavor and taste in gratitude for the best blessings of nature.
◎ Kuri Yose, Kuri Goromo, Kuri Mushi Kogashi, Seto Grape Daifuku

<Winter>
◎ Kuromame Daifuku ・ ・ ・ Large Tamba black soybeans are carefully simmered and gently put into Daifuku mochi. The scent of plump beans spreads in your mouth.
◎ Chestnut Kintsuba, Mikan Daifuku, Local Sake Manju Tamba Toji
We sell baked goods and our specialty tea online.
As Suwaen, we have a farm, so we are not only confectionery professionals but also agricultural professionals, therefore very choosy about the ingredients. If we can't grow enough amount of the ingredients in our own farm, we will purchase it through our own route, but we will only use ingredients that we are satisfied with.
"Use good things to make delicious things" is a matter of course, but it's getting harder to do so.
Difficult to obtain, expensive, time-consuming even with good materials, don't stay fresh for long … There are various reasons, but Suwaen does not compromise.
At Suwaen, we search for good things and use materials that are convincing, so that the customers can enjoy the real taste.
Click here for Rakuten Ichiba online shop
You can also enjoy a coffee shop at the Suwaen main store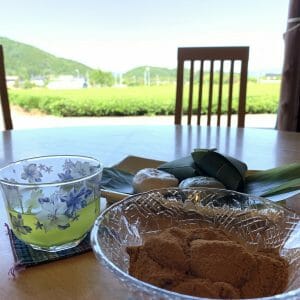 You can enjoy the purchased sweets while looking at the tea plantations.
There is also a coffee shop menu.
◎ Sencha combo (with sweets) 600 yen
◎ Matcha combo (with sweets) 700 yen
◎ Coffee 400 yen
◎ Zenzai (with tea) 600 yen   *Zenzai is a sweet bean soup, very tasty!
◎ Fruit flavor icecream bar 480 yen
Basic Information
| | |
| --- | --- |
| Post code | 〒669-2223 |
| Address | 1463 Ajima Oku, Tambasasayama city, Hyogo prefecture |
| Phone | +81-79-594-0855 |
| Parking lot | Available, frView on Google maView on Google ma |
| Map | View on Google map |
| Website | Go to Website (only in Japanese) |
Business Information
Business hours
9:00-17:30
café is open 9:00-17:30(order accepted till 17:00)
Regular holiday
Not fixed.
(Note: Basically it is open every day.
It may be closed during the tea picking season.
Please check the Suwaen website for details.)
Café Information
| | |
| --- | --- |
| Number of seats | 12 |
| Reservation | Available |
| Rent | Not available |
| Smoking | No smoking |
| Payment method | Cash, Credit card accepted |