Tambasasayama Yam Fair November 20th-February 6th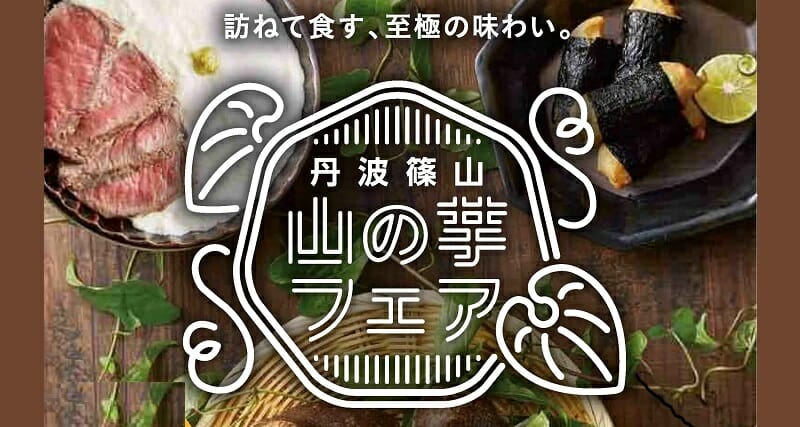 Tambasasayama Yama-no-imo, or Tambasasayama Yam, is a local specialty of the city. From mid-November when the peak season of this yam comes, Tambasasayama Yam Fair is held so that many people will know the charm of this yam.
Please take this opportunity to purchase yams at Tambasasayama.
[Period]
From November 20th (Sat), 2021 to February 6th (Sun), 2022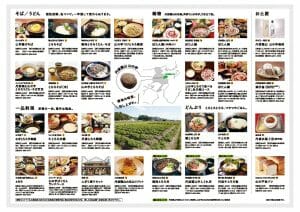 What is Tambasasayama Yam?
There are many kinds of yams in the yam family such as Chinese yam and Japanese yam, and "Yama-no-imo" in Tambasasayama is a kind of  Tsukuneimo or Yamatoimo. It is round with black, rugged outer skin, and inside is fine texture and pure white color.
It is the stickiest of all potatoes, becomes fluffy when cooked,  and has a thick texture.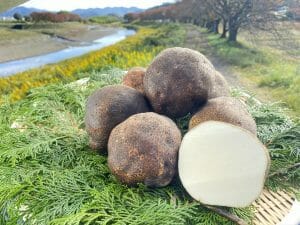 A traditional vegetable that has been cultivated and eaten since the Edo period(1601-1867).
The Tambasasayama Yams are planted in early April. They need a lot of care and are very precious, because the farmers can harvest only one from one seed potato.
From autumn to winter, you can see Tambasasayama in a thick fog called the Tamba Fog.
Around that time the large yam is harvested, so it is sometimes called Kiriimo or the Fog Yam.
The harvest starts around the end of October in Tambasasayama, and the high season is until the beginning of December.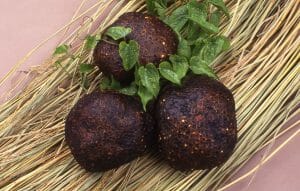 There are many ways to enjoy the yam, such as to cut it into strips and eat them raw with ponzu sauce, or to use it as an ingredient of a botan nabe (wild boar soup), or to grate it (make it tororo) and put it on the rice or drop it in the soup to make dumplings, or to put it in okonomiyaki (Japanese pizza-like dish). The deep fry yam with seaweed wrap called Isobe Age is also recommended!
The yam is also useful as an ingredient for high-class Japanese sweets. It is indispensable for giving a fine and fluffy texture to the Joyo manju, which is a steamed yeast bun with filling.
Not only delicious but full of nutrition!
Being rich in dietary fiber, eating the yam helps to prevent lifestyle diseases and improve intestinal condition.
It also protects the inner wall of the stomach and improves the digestive function.
Also, it is said that eating yam is like taking a supplement, which contains a lot of vitamins, amino acids, and potassium that removes the swelling.
Tambasasayama Tororo Rice Set Present Campaign
During the yam fair period, we will distribute a questionnaire to those who have eaten and purchased yam at the stores participating in the fair.
Application deadline: February 18, 2022 (must arrive)
From those who answered the questionnaire, 20 people will be chosen by lottery. The winners are to receive the "Tambasasayama Tororo Rice Set". The set consists of 'Megumi Rice from Agricultural Capital' which is the environmentally friendly Tambasasayama rice with reduced pesticides, and the Tambasasayama Yam. (Scheduled to be shipped in late February, 2022)
Please take this opportunity to purchase the Tambasasayama yam.
Fair participating stores
Soba and udon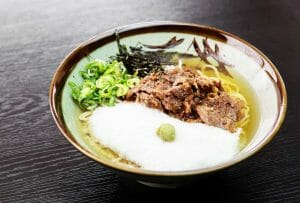 | | | |
| --- | --- | --- |
| Hiiragiya | Fried yam soba | 56 Nikaimachi |
| Ajidokoro Mitake Main Store | Wild boar meat and tororo udon noodles | 683 Kurooka |
| Sobakiri Hanakoushi | Yama-no-imo tororo soba | 160 Kawaramachi |
| Unitopia Sasayama | Yama-no-imo tororo udon /soba set meal | 231-1 Yashiro |
| Jinenjo-an | Tororo soba (cold) | 947-8 Mananjo |
Single dish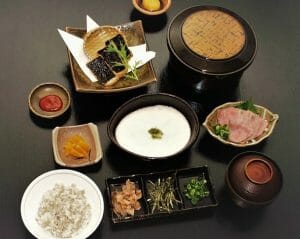 | | | |
| --- | --- | --- |
| Ohte Shincho | Mugitoro Ohte Gozen set | 71 Nikaimachi |
| Ryorisha Yamayu | Beef tororo bowl set | 81 Amigake |
| Tamagawarou | Tamba Tororo Gozen set | 32 Gofukumachi |
| Village Maruyama (accommodation) | Tororo breakfast | 30 Maruyama |
| Cafe Arbo | Yam Bakudan Lunch Course | 194-2 Nonaka |
| Kadosei | Small bowl of nigiri prime set | 52 Nikaimachi |
| Odagaki Mamedo | Tambasasayama Satoyama Risotto | 19 Tatsumachi |
Hot pot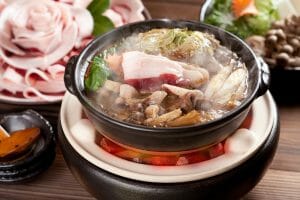 | | | |
| --- | --- | --- |
| Japanese style cooking  Hogyo-en | Botan nabe | 52 Kawakita Shinden |
| Tambasasayama Kinmata | Botan nabe | 81 Nikaimachi |
| Umetan FUJI | Sumashi Botan nabe course to eat with yam tororo | 65-3 Ofuji |
| Takasago | Small bowl of botan nabe | 6 Nikaimachi |
Rice Bowl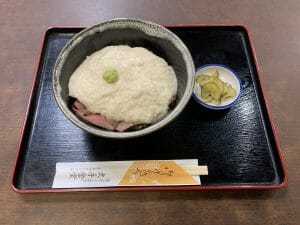 Restaurant Sanmon
Wild boar tororo bowl
116 Toukouchi
Ohte Shokudo
Beef tororo bowl
55-1 Nikaimachi
Ajidokoro Mitake
Wild boar meat tororo bowl
18 Kurooka
Tokusan kan  Sasayama
Tambasasayama beef rice bowl
70-1 Kurooka
Shishigin
Sue no Sato Store
Tamba beef tororo rice
3 Kondacho Kamitachikui
Souvenir
| | | |
| --- | --- | --- |
| Tamba Kurika syo  Daifukudo | Kuri Inaka/Tamamizu | 121-1 Kitashinmachi |
| Kaseido | Tamba Kuri Joyo (reservation required) | 59 Inuishinmachi |
Shops for purchasing Yam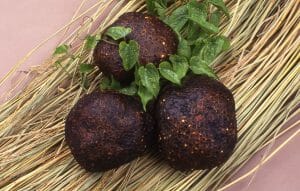 Taisho Romankan
97 Kitashinmachi
Tamba Sasayama Hyakukeikan
58-2 Nikaimachi
Sasayama grocery store
54 Nikaimachi
Tamagawa Foods
55-1 Nikaimachi
Nishihachi
main Store
65-3 Nikaimachi
Nishihachi
branch store
65-3 Nikaimachi
Wadaei
95 Nikaimachi
Odagaki Shoten
19 Tatsumachi
JA Tambasasayama Midorikan
942-1 Higashibuki
Kuromame-no-yakata
511-2 Shimoitai
 'Minori' market in Konda Yakushi Onsen
Nukumori no Sato
21-10 Kondashinden, Kondacho
Event  information
Inquiries
Tambasasayama Kuromame Section, Agricultural Capital Policy Division, Tambasasayama municipal government
41 Kitashinmachi, Tamba Sasayama City, Hyogo Prefecture 669-2397
Phone: +81-79-552-6580
Organizer
Tambasasayama Brand Product Strategy Conference (Hyogo Prefecture, Tambasasayama Agricultural Cooperative, Tambasasayama City)