Tamba-yaki Pottery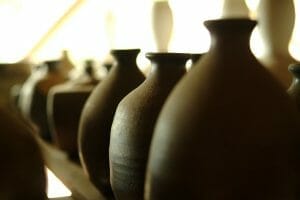 Tamba-yaki pottery boasts a history of 800 years and is one of the six ancient kiln sites in Japan, along with Seto, Tokoname, Shigaraki, Bizen, and Echizen. It is said to have originated from the end of the Heian period to the Kamakura period.
Until the Momoyama period, anagama (tunnel kilns) were used. Then around 1611, Korean-style semi-underground climbing kilns were introduced. Counterclockwise kick wheels (rare in Japan) and other techniques were introduced at the same time and have been passed down the generations through to today.
Initially, the main products were vases, water jars, and grinding bowls, but under the guidance of tea master Kobori Enshu and others in the early Edo period, many famous tea utensils such as tea caddies, water containers, and tea bowls were produced. In the latter Edo period, Tamba-yaki pottery was protected and nurtured by the Sasayama clan, and master craftsmen such as Naosaku, Ichifusa, Kayu, and Ichiko competed with their skills and created a reputation for Tamba-yaki pottery.
Tamba-yaki pottery was inherited by craftsmen through the Meiji, Taisho, and Showa eras. It survived the hardships of WWII and concentrated on creating works centered on folk crafts, mainly tableware and flower vases.
The pottery of the Anagama period was made by coiling clay to create the shapes that were then finished on a potter's wheel. No man-made glazes were used, rather, the wood-burning Anagama kilns were fired for long periods of time, and the ash from the wood fell on the pottery and fused with the iron contained in the clay to form a natural green and brown glaze. This is called natural glaze that the Japanese call Bedro glaze, which is another characteristic of Tamba pottery in the Anagama period and is still prized in Tamba-yaki pottery today.
Basic information
| | |
| --- | --- |
| Postal code | 〒669-2135 |
| Address | 3 Kondacho Kamitachi, Tambasasayama City, Hyogo Prefecture |
| Phone number | +81-79-597-2034 |
| Map | View on Google map |