Unitopia Sasayama
"Unitopia Sasayama" is an accommodation facility that can be used for multiple purposes such as vacations with family and friends, school events, and corporate group training.
Located in a vast site of 270,000 m2 (7 Koshien Baseball Stadiums) In addition to the accommodation building on the shore of a lake, the adjacent training building, and 52 bungalows, there are various outdoor activity facilities including a full-scale field athletic, tennis courts, and an outdoor pool in natural surroundings. All of which can be used for camping and day trips. Moreover, it is a vacation village where you can enjoy making your connection with nature.
In 1973, on the property of Matsushita Electric Industrial Co., Unitopia, a holiday village, was built by the labor unions to encourage workers solidarity, help workers recover their 'humanity' and to protect nature. Currently the site is managed and operated by the Panasonic Group Trade Union Confederation.
■ Accommodation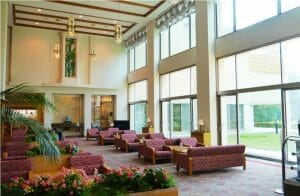 Lake Plaza Unitopia Sasayama's largest accommodation facility. As the name suggests, it is located on the shore of Lake Yashiro. There are 36 Japanese-style rooms (maximum number of guests 188).
All rooms have a lake view with a panoramic view of the changing seasons on the shores of Lake Yashiro.  There are multiple facilities including a restaurant, a large hall where parties of 100 or more people can be held, Komeiseki Onsen hot baths (one-day bathing is also possible), a karaoke lounge, and a souvenir shop.
We have a full range of facilities that can meet a wide range of needs from families to groups.
[Amenities available]
-Yukata, cotton hanten (sleeveless) , towels, bath towels , toothbrushes, razors, combs, hair dryers, air purifiers, refrigerators, hot tea sets, safety deposit boxes, etc.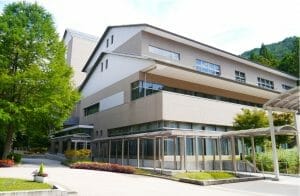 [Forest Plaza] This training and accommodation facility has Western-style rooms (twin room) suitable for business events such as workshops and lectures.
40 Western-style rooms (maximum number of guests 80).
It is fully equipped with large and small training rooms and can be used for meetings and training for a large number of people.
[Amenities available]
・Yukata, cotton hanten (sleeveless), towel, bath towel, body soap, rinse-in shampoo, toothbrush, razor, comb, refrigerator, hair dryer, air purifier, hot tea set, etc.
* There are no safety deposit boxes.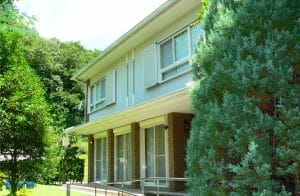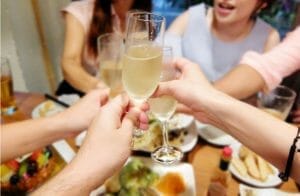 [Rest house (villa)] This is a one-building private cottage-style accommodation that stands on the shore of Lake Yashiro. there are 2 Japanese-style rooms and 1 Japanese-Western style room (5 to 15 people)
Enjoy some private time with families and/or groups.
[Amenities available]
Yukata Wataire short coat (sleeveless), towels, bath towel, body soap, shampoo, toothbrush, razor, comb, hair dryer, air cleaner, tea set, refrigerator.
* There are no safety deposit boxes.
■ Campsite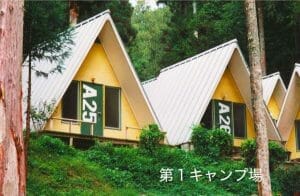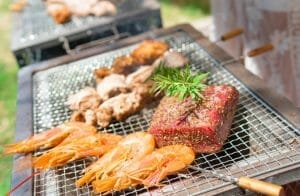 A total of 5 types of bungalows with a capacity of 3 to 25 people that can be used by a smaller number of people. It can accommodate up to 480 people in all 52 buildings.
We also offer shared facilities such as hot shower rooms and kamado, cooking utensil rental, and arranging supplies of foodstuffs (reservation required).
[Auxiliary facilities]
・ Electrical Outlet: 1 point
・ Wall-mounted fan: 1 unit
・ Fluorescent lamp
* Camping equipment such as blankets, sleeping bags, and camping rice cooker
can be rented for a fee * Hot showers are available at the 1st campsite
You cannot enter the campsite with a vehicle, please use the hand carts from the parking lot to carry your luggage.
■ Soramie & BBQ Garden
A place where a lot of people can gather under the blue sky.
Please relax in the lawn open space "Soramie".
"Barbecue Garden", a place where you can park your vehicle close by and enjoy your barbecue.
■ Outdoor facilities
On the vast site of 270,000 m2, there are outdoor facilities that include a grass area, tennis court, pool, athletics, putting golf, a fishing hole, and more that adults and children can enjoy all day long.
In addition, the campsite is fully equipped with bungalows, and camping equipment can be rented, so you can easily enjoy the outdoors.
■ Restaurant
Botan nabe (Wild Boar Hot Pot) ¥ 6,050 per person
Botan nabe (Wild Boar Hot Pot) ¥ 7,700 per person
* Minimum two people order.
Wild boar meat, which becomes softer as it is stewed, is low in fat and calories, but it is nutritious!
Customers using private rooms can also enjoy wild boar meat even if it is teppanyaki.
[Scheduled sales period] November-March (Wild boar menus are available from November through March)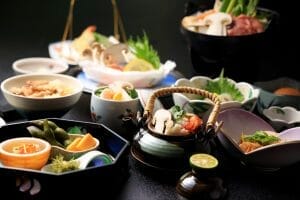 In addition to Botan nabe (Wild Boar Hot Pot), we offer a variety of dishes available to order from a single person to groups, daily lunch, kaiseki (Japanese Course Meal), banquet dishes, beef shabu-shabu, and hot pot dishes such as beef sukiyaki.
Reservations are required for evenings, but some lunch menus can be provided even if you come on the day.
■ Komeiseki Onsen Hot Baths (One-day bathing is OK)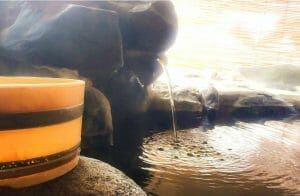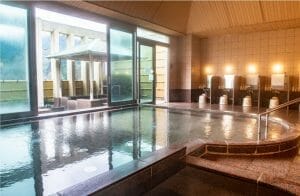 Komeiseki, Komei stone, is a mineral which is said to have beneficial effects on neuralgia, stiff shoulder, hemorrhoids, poor circulation before and after childbirth, rheumatism, lower back pain, and recovery from fatigue.
Komeiseki Onsen at Lake Plaza has both men's and women's baths and various open-air baths, both of which boast views overlooking Lake Yashiro.
[Bathing time]
[Non staying guests Open Hours] 12:00 to 22:00
[Fee]
[Adult] 400 yen [Children] 300 yen
* Staying guests can use the baths free of charge.
(For staying guests a morning bath is also available.)
* A fee will be charged for guests staying at the campsite and visiting the village on a day trip.
Basic information
| | |
| --- | --- |
| Postal code | 〒669-2356 |
| Address | 231-1 Yashiro, Tambasasayama City, Hyogo Prefecture |
| Phone number | +81-79-552-5222 |
| Parking Lot | 500 units |
| Access by train and  bus | JR Takarazuka Line (Fukuchiyama Line) Get off at Sasayamaguchi Station 10 minutes by taxi |
| Access by car | 7 minutes from the Tannan Sasayamaguchi Exit on the Maizuru Wakasa Expressway |
| Map |  View on Google map |
| Website | Go To website |
| Facebook | Go to Facebook page |
Business information
Business hours
09: 00 ~ 17: 00
Remarks: Reception for outdoor play facilities is until 16:00
Irregular holidays
Food and drink information
Reservation availability
Individual and group reservation possible
Private dining for groups
Can be reserved
Average budget (lunch)
From 1,100 yen
Average budget (night)
From 4,400 yen
Method of payment
Card payment (other payment) is possible
VISA, JCB, Master, AMEX, Diners
Other payments
Electronic money: ICOCA, iD
Tourist spot information
Fee:
Admission fee(natural environment maintenance fee)
[Adult] 300 yen
[Children] 200 yen
* Children are from 5 years old to 6th grade of elementary school.
Fee:
One-day bath
[Adult] Admission fee 400 yen
[Children] Admission fee 300 yen
* Guests staying in a guest room can use the hot baths free of charge.
* Customers staying at the campsite will be charged.
Remarks
* Free of charge for guest rooms (including villas) and bungalow guests, those who reserve meals for banquets, elderly people over 70 years old, those with disability certificates, and visitors after 17:00.
* Special rates will be applied on the Summer Carnival day (August 13th).
Accommodation information
Check in
3pm
Remarks
Adults 13,200 yen (tax included) ~
Children 7,700 yen (tax included) ~
* Children are 5 years old to 6th grade of elementary school
* 1 night with 2 meals.