Autumn Delicacies
Sasayama is an agricultural area well known for many farm products, and come fall countless people head from the Kansai urban areas to Sasayama to take these delicacies home.
 Kuromame (Black Soybeans)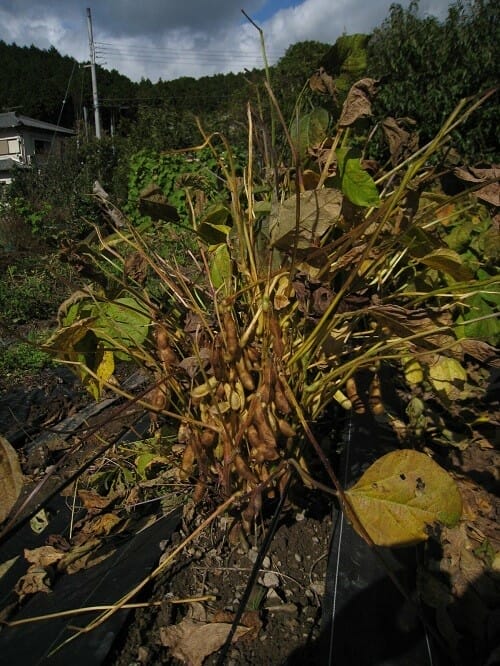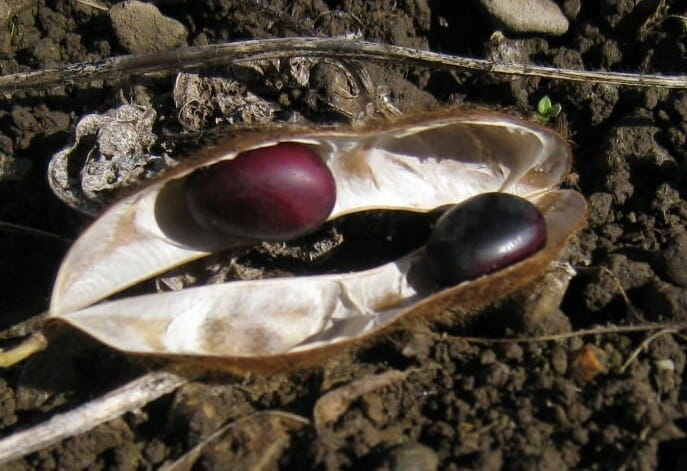 One website said, "Black soybeans are merely a black variety of the more common soybean." Don't be fooled. Black soybeans are the best thing to ever happen to the fall. These black soy beans mature in October, during the fall festival season. At this time of the year they are picked green, boiled in salt water, and eaten fresh, preferably with ample quantities of beer (or of course rice if you prefer). They are a great appetizer but we also put them in salads and other dishes as well. Towards the end of the month when the outer skins start to darken, the beans become a bit chewer and more flavorful.
This time of the year, you can see farmers all around Sasayama sitting in their fields in the day or working hard in sheds at night removing the leaves and surplus stems so that they can ship the beans still attached to the stalk, which keeps them fresher longer. This is a bad time of year to go take packages to delivery companies later in the day, because the locals will be lined up waiting to send fresh kuromame all over the country. They even set up extra tables outside to handle the overload. Local tourists come to harvest the beans from the fields themselves to save a bit of money, lighten the load on farmers, and enjoy the fall weather and scenery.
But there's more. After the rush to eat fresh kuromame ends, the farmers keep working to dry the remaining beans for use at the New Year, when kuromame stewed in soy sauce and sugar are almost a required item in New Year's meals. Once stewed, they are as black as night and a richly flavored touch to the meal. The stewed beans also keep well, which is essential for New Year's food because only minimal cooking is done over the New Year's holiday, and they are symbolic as well, because "mame" is also a different word meaning "diligent" implying healthy and energetic. (Everything in a New Year's meal has a meaning in Japan, but that's another story.)
Yamanoimo Yams
These yams are totally glutinous, i.e., mash them up and you get a sticky mass. Add some flavoring and place it on some rice, and you almost have a complete meal. These yams are also used in the wild boar nabe described below. A word of caution: If you live in Japan and want to grow this, be prepared. They are not easy. It took us 10 years to get a decent crop and even then, we didn't do very well this year, but it's still a lot of fun to try.
Kuri (Chestnuts)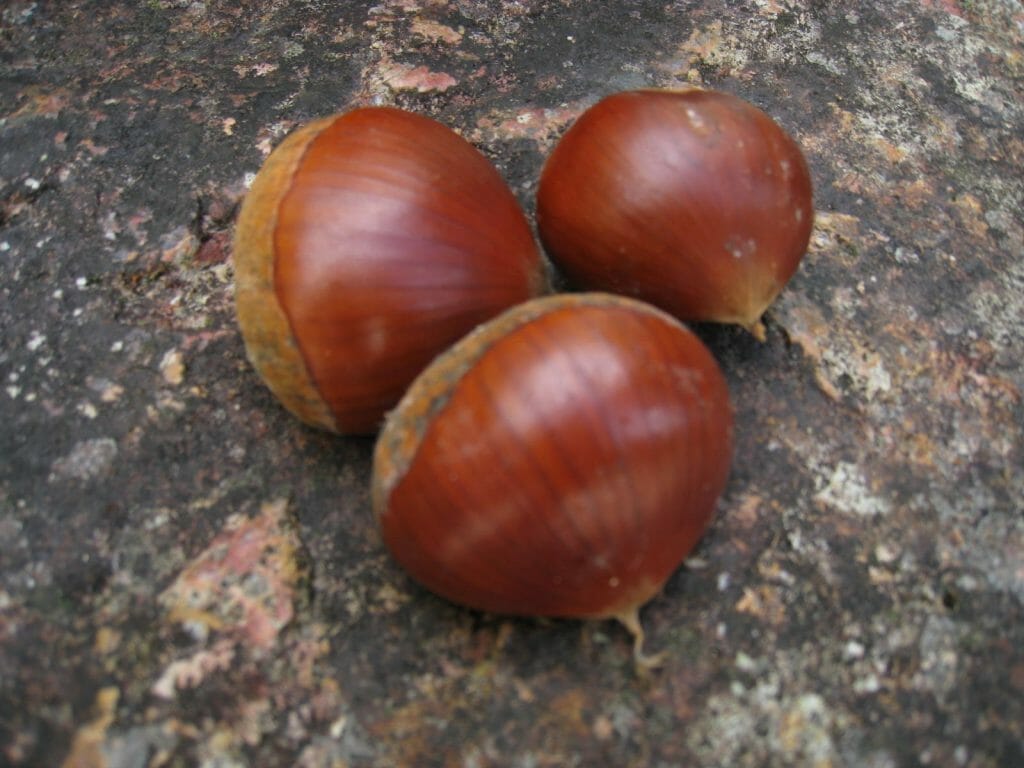 Sasayama is also famous for chestnuts. If you want to get Westernly romantic, go ahead and roast them over an open fire, but they are more commonly used in various sweets in Japan, even in the special sweets used in the Japanese tea ceremony. They are also great cooked into rice (maybe with a few kuromame), or stewed in sugar with the inner skins still in place.
Satsuma Imo (Sweet Potatoes)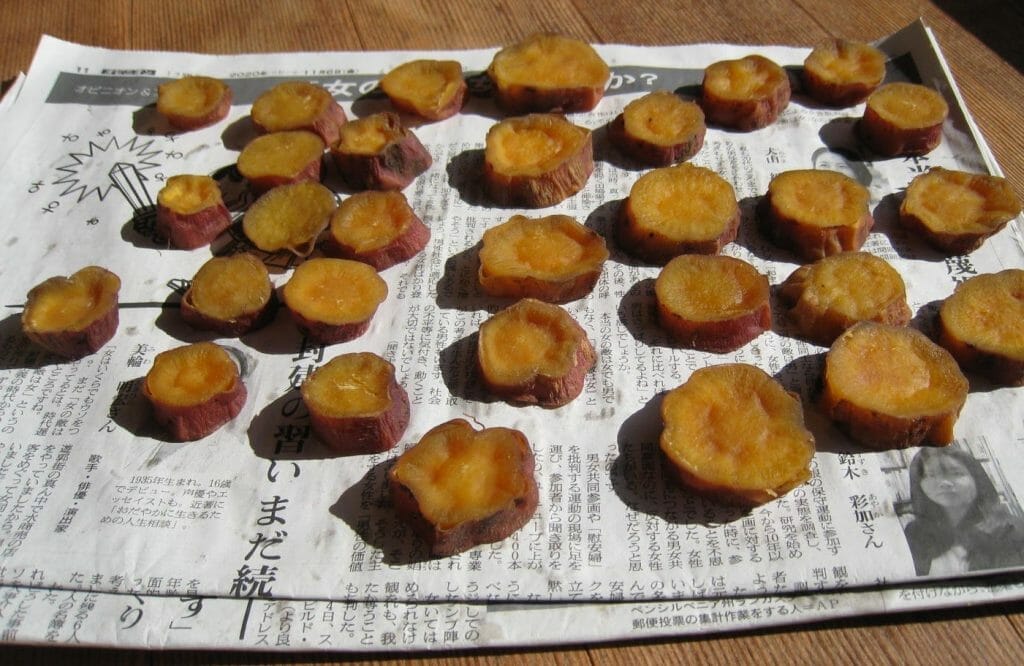 You might be surprised at how many types of sweet potatoes are raised in Japan. Every year we raise between three and five varieties, from yellow to purple to cream colored, and there are many more. The photo shows the smaller ones from our crop this year, which my wife slices and stews in sugar before drying them to a chewy consistency. We then throw them into the freezer and have them with matcha throughout the year. My wife also roasts them in their skins for breakfast much of the year.
Other Delicacies
Botan Nabe (Wild Boar Nabe)
Wild boar meat has a fatty layer, and if you cut it right and arrange it properly, you can make the plate into one big peony, which is what "botan" means. This special treat is best left until later in the fall or winter. It always tastes better on a cold day after sitting with friends drinking and waiting for the meat to soften in its white miso and burdock soup. You'll want to pop in some  yamanoimo yams, which are a great way to end the meal as you find them in the bottom of the pan.
Azuki Beans
These small red beans are a stable in making wagashi (Japanese sweets) for the Japanese tea ceremony or just to have with tea. They are also stewed with mochi (rice cakes) and served in the sweet hot broth.
Matsutake Mushrooms
I left these wonderful mushrooms for last because they have become so elusive. The red pines under which they grow have been mostly killed off by a parasite. Sasayama was once one of the most famous areas for them, and you can sometimes still find them (but I guarantee you will not like the price). For the most part, they are now imported from the mainland and even Canada at more affordable prices, but are still considered a specialty of Sasayama. I do have a lot of fond memories of local matsutake mushrooms at the fall festivals. They can be roasted whole, but are best in Dobinmushi (steam-boiled in an earthenware teapot) to take advantage of the wonderful fragrance for which they are known. Bon Appétit.