Special Feature on Spring Cherry Blossom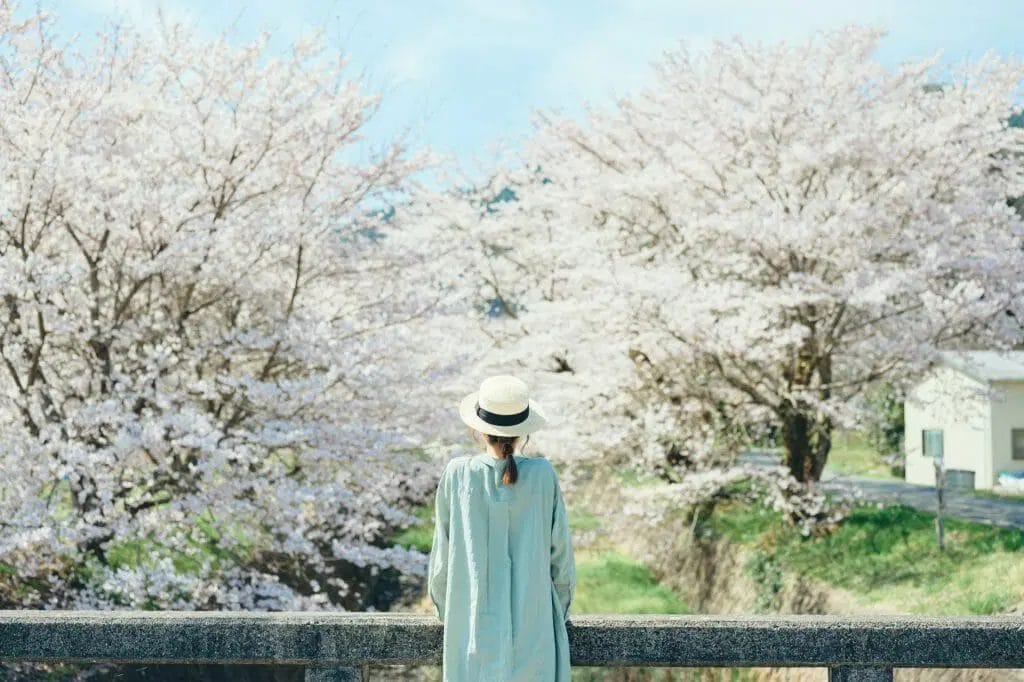 Popular cherry blossom viewing spots in Tambasasayama city!
"Sakura" is a spring tradition that has been loved by men and women of all ages since ancient times. The lovely and ephemeral cherry blossoms inform us of the arrival of spring and bring us a calm feeling.
Cherry is Tambasasayama's official tree, and is carefully maintained by the local community. We will introduce some of the beautiful cherry blossom viewing spots in Tambasasayama city.
Please check the official Twitter account of the Tamba Sasayama Tourist Association (Japanese) for the latest blooming information.

[Sasayama Castle Ruin] One of the best Cherry Blossom Spots in Hyogo Prefecture! The cherry blossoms reflected on the surface of the moat are so beautiful.


Sasayama Castle Ruins is known as one of the best cherry blossom viewing spots in Hyogo prefecture, and around 1,000 Somei-Yoshino cherry trees can be seen in full bloom in the castle town.
During the flowering period, the paper lanterns are lit up, and you can enjoy the cherry blossoms even at night. The surrounding area is filled with a magical atmosphere.
The first cherry trees in the Sasayama Castle Ruins were planted in 1914 in the "Higashibori(East moat)" to commemorate the enthronement of Emperor Yoshihito(on the throne 1912-1926). Later, more cherry trees were planted around the castle and Kawaramachi Ojiyama Park, which is said to have become known as a famous flower spot.
In addition to the front view of Sasayama Castle Ruins, you can enjoy a different view from different viewing locations such as Minamibori(the south moat), Higashibori(the east moat), and San-no-maru west parking lot.


There is a weeping cherry tree with spreading branches in the parking lot looking up the Oshoin. The many hanging branches look like a curtain of cherry blossoms. They show us a beautiful expression different from Somei-yoshino.
[Ojiyama Park] Enjoy the view in combination with the Sasayama Castle Ruins


Ojiyama is a small hill located to the east of Sasayama Castle Ruins.
The paths decorated with cherry blossoms are perfect for strolling.
It is a spectacular spot that is different from the Sasayama Castle Ruins because of the popular sightseeing spots such as Honkyoji Temple (Ojiyama Makekirai Inari Shrine) and [Kawaramachi Tsumairi Merchant houses] nearby.
[Kasuga Shrine] A subtle and profound world of flower petals and a Noh stage


The Kasuga Shrine Noh Stage, a National Important Cultural Property, was built in 1861 at the end of the Edo period. At the time of its construction, it was said to be the most splendid Noh stage west of Hakone, and is characterized by seven large Tamba ware pots placed under the floor of the stage for acoustic effects.
Every year on the second Saturday of April, Noh and Kyogen are performed on this Noh stage.
You can enjoy a mysteriously elegant world in the shower of flower petals.
*Kasuga Noh performance in 2023 is canceled due to repair work of the stage
[Hannyaji's Ipponzakura (single cherry tree)]More than 100 years old


There is a single cherry tree called "Ipponzakura" along the river, which is said to be 100 years old. It became a hot topic that If you search for "サクラ(Sakura, cherry blossom)" on Japanese Wikipedia, photo of this cherry blossom's peak time will appear.
Now it has become much smaller than it was in its peak period because the diseased branches were cut off a few years ago. However, it still is a spot that makes passers-by want to stop because of the stately figure that stands majestically and solitary on the river bank with Tamba Fuji (Mt. Takashiro) in the background.
This tree had been lit up at night until a few years ago, but now it is not. Please be careful when viewing at night.
[Kozoji Temple] Known as the "Temple of Flowers" and can be enjoyed for a long period of time.


In the precincts, there are about 200 various kinds of cherry trees such as weeping cherry, Someiyoshino cherry, and double flowered cherry trees, so you can enjoy for a long period of time. When the Somei-yoshino cherry blossoms begin to fall, wild cherry blossoms and other cherry blossoms begin to bloom, and the grounds of the valley behind the main gate gets covered with petals as if a pink carpet. The weeping cherry tree called "Itozakura" next to the Kannon statue is also spectacular. This
is an ancient temple of the Tendai sect, founded by Hodo hermit built in 646CE during the Asuka period. Please be careful about the visiting timing because the cherry blossoms here bloom later than in the city area. It is because the temple is located deep in the mountains and the temperature is lower.
[Oyama Okamezakura] Characterized by its early blooming and dark pink in color


An early-blooming Okamezakura blooms cute little dark pink flowers. It is rare in Japan to see the sight of more than 150 Okamezakura trees in a row coloring the early spring. They have been planted since 1990. When Somei-yoshino cherry blossoms start to bloom, the two beautiful pink layers catch the eye of people walking by. This rural landscape looks as if pink clouds are floating. Please note that there is no parking lot.
[Unitopia Sasayama] You can enjoy a day-use bath as well


This is a resort facility that can be enjoyed either on a day-trip or overnight with various activities. On a vast site of 270,000㎡, there are many facilities such as lodging, day-use bathing, camping-ground, BBQ gardens, obstacle course, swimming pool, and playing in the river. While maintaining the natural environment, artificial forests and hand-made flowerbeds were created, and as part of the satoyama revitalization plan, coppice forests, terraced rice fields, and streams are being regenerated, and it is certified as a "Collaborative Project for the United Nations Decade on Biodiversity".
At Sakura Park near the hotel, Somei-Yoshino cherry blossoms are in full bloom from early to mid-April, and double cherry blossoms around late April. The reflection on the surface of Lake Yashiro is also spectacular. Admission fee is ¥300 to maintain the natural environment.
Why are there so many cherry trees along the Sasayama River??
Many people say, "Everywhere along the river in Tambasasayama City is so beautiful." Actually, it is a part of "Furusato Hanazutsumi Corridor" project. It took about 10 years from 1991 for the locals to plant 50,000 cherry trees on the 170 km riverside from the Sea of Japan to the Seto Inland Sea, which made Japan's largest cherry blossom corridor.
The row of cherry trees along the Sasayama River was the first to be developed in the Cherry Blossom Corridor. Now, after more than 30 years, it formed a splendid avenue of cherry trees that runs through the city. It is well-loved as a place for citizens to relax, also as a base for communication. Local people have planted it further upstream and in tributaries to improve the "Corridor".
Please enjoy the avenue of cherry blossoms that runs through the city along with the local landscape.
[Nishiokaya/Arii] A 500m cherry blossom tunnel along the Sasayama River


A popular spot called Cherry blossom Tunnel, where the pink tunnel continues for 500 meters. You can also drive through it. (Please be careful of pedestrians and oncoming vehicles.)
This road is also popular for cycling. During the flowering period, the local residents' association puts paper lanterns on to create a beautiful nighttime cherry blossom viewing.
[Miyada River] 4km Cherry blossoms along the river where you can enjoy late blooming


A 4km long row of cherry trees, mainly Somei-Yoshino cherry, with wild cherry and doubleflowered cherry, stretches along both banks. The foot bank is full of horsetail, violets, and other flowers, making it a nice place for a walk.
[Route 173 Cherry blossom road] Popular among cyclists and bikers


This is a spectacular spot that makes you slow down while driving. Along Route 173, for 2km, you will see 300 Somei-Yoshino cherry trees. It is a popular route where bikers and cyclists enjoy an exhilarating ride. There is " Sasayama Children's Museum " nearby, where you can enjoy with your children. (Please note that it is very dangerous to operate your smartphone, look aside while driving, or stop suddenly.)
A hidden cherry blossom viewing spot loved by locals
[Komakura Community Center] A hidden cherry blossom viewing spot where you can enjoy the cherry blossoms at night


The locals love the cherry blossoms of the widespreading branches, which are impressive.
Kasuga Shrine in Komakura is also a popular spot, where is related to Minamoto no Yoshitsune (a famous warlord. 1159-1189). It is said that he dedicated his horse saddle to the shrine and prayed for good luck before he went to the battle.
This place is said to have come to be called Komakura(horse saddle) Village, now it is the same sound but changed Kanji character to the meaning of "small pillow".
At night, the locals lit up the trees, making it a secret spot.
[Komakura River Kannonmae bridge(Nonaka)] No matter where you take a picture, it will be picturesque.


Located in Nonaka, Tambasasayama City, "Kannonmae Bridge" over the Komakura River, a branch of the Sasayama River, is a little-known photo spot.
Because the river is not so wide, you can take a beautiful picture of the cherry blossoms gathered in one place.
Since it is a small place, the photo can be beautiful either from the bridge or from the opposite shore.
Please take many photos from various angles ♫
["Ipponzakura(one cherry tree)" in Souji Naka]
Sacred place for fans of the movie "Mori no Gakko (School in the Forest)"


About 60 years old Somei-Yoshino cherry tree. A cherry tree standing alone in a rural landscape is a symbol of the movie released in 2002. An actor, Haruma Miura, played the main character when he was 12 years old. This spot suddenly became
famous as it is on the brochure and in the title background.
The actual filming took place around October, but it is a popular spot for movie fans to visit every spring as a pilgrimage to the holy land.
(There is no parking lot, and the field near the tree is a private property, so please use good manners when visiting.)