Suggested sightseeing route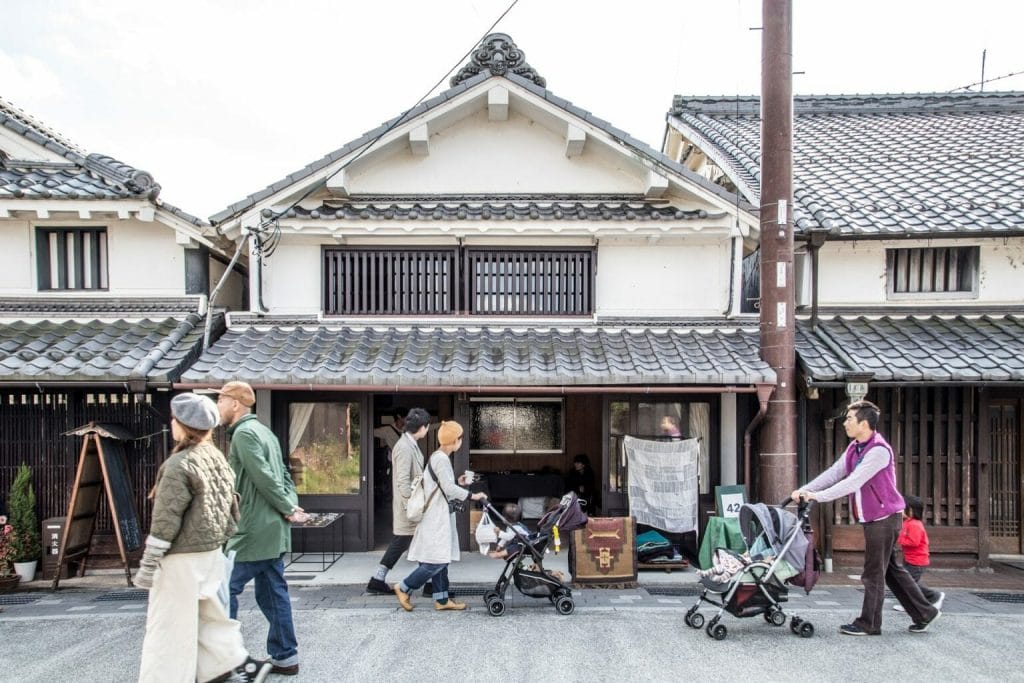 Tambasasayama City Tourism Pamphlet / Tourism MAP(Japanese only)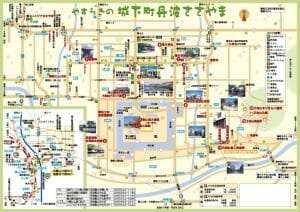 About Tambasasayama…
◎ 1 hour from Kobe, Osaka, or Kyoto
Tambasasayama City is located in the central eastern part of Hyogo Prefecture, adjacent to Kyoto Prefecture in the east and Osaka Prefecture in the south. It is within an hour from Osaka and Kobe. By car, please take "Tannan-Sasayamaguchi" exit on the Maizuru Wakasa Expressway. By train, please get off at " Sasayamaguchi" station on JR Fukuchiyama-line, then transfer to Shinki Green Bus to the castle town or city centre, it takes about 15min. from the station.
◎ Proud of our local products!
Main specialties are delicious agricultural products – such as Kuromame (black soybeans), Yama no Imo (Japanese Yams), chestnuts, Matsutake mushroom, green tea, beef(Kobe beef production area), and more. Also famous crafts such as Tambayaki pottery and Tamba cotton are fantastic. Tambasasayama is full of treasures!
◎Full of tourist attractions
Tambasasayama is a castle town that has developed in its own style, influenced by Kyoto culture. The historical townscape can be seen around the ruins of Sasayama Castle, while the area around the castle town offers beautiful countryside scenery rich in nature.
◎ Traditional festivals and events
Tambasasayama is the hometown of the nationally known folksong "Dekansho-bushi". Many events such as the "Dekansho Festival" – Bon dace festival, the "Ceramic Festival" and the "Mikaku(taste) Festival" are held throughout the year. There are also many traditional rituals have been handed down from generation to generation, giving a sense of tradition and culture.
Recommended Sightseeing Routes
① Feel the History : Castle town route
Visit city's biggest tourist facility, the Sasayama Castle Oshoin, and walk around the Kawaramachi Tsumairi merchants houses district, where the historical townscape remains. Please enjoy strolling around and feeling the atmosphere of the old castle town, as well as eating and shopping in the surrounding area.
Sasayama Castle ruin ▶ Samurai Residence ▶ The Historical Area of the Aoyama Clan ▶ Kasuga Shrine ▶ Historical Museum ▶ Ojiyama Park ▶ Kawaramachi Tsumairi Merchant Houses
*Tsumairi is a Japanese traditional architectural style in which the main entrance is on one or both of the gabled sides.
Kawaramachi Tsumairi Merchant Houses district
Kawaramachi district began to be developed shortly after the construction of Sasayama Castle, and prospered as the commercial center of the castle town. You can see the townscape that retains the remnants of the old highway. The district is characterized by the Tsumairi styled merchant houses, which conveys the appearance of the castle town from the Edo period (1603-1868). For example, 'Sen-bon-goshi' (lattice of evenly spaced vertical timber bars), 'Ara-goshi' (old exterior window structure), 'Sode-kabe' or the wing walls, and the 'Udatsu' which is a fire wall built to prevent the spread of fire with the neighboring house. This district has been selected as Important Preservation District for Groups of Traditional Buildings.
[Tourist facilities] Sasayama Noh play Museum, Tamba Kotoukan (antique ceramic museum)
◎ Volunteer guide: Discover Sasayama Group
(Available language: Japanese. English speaking guides will be available soon!)
◎Sightseeing spots in the area : Taisho Romankan(shop and restaurant), Horoyoi Jokagura sake brewery, Seiganji Temple, Sonpoji Temple, etc.
◎Accomodations: Kinmata, Takasago, Iketomi, Sasayama Kanko Hotel , etc.
◎Go a little further: Village Maruyama (hotel, restaurants in a small beautiful village)
② The Village of Tamba-yaki pottery : Konda Tachikui route
Konda Tachikui area is the production center of Tamba-yaki pottery which is one of the Six Ancient Kilns in Japan and located in the southwestern part of Tambasasayama city. There are about 60 potteries in the area, as well as climbing kilns and facilities where you can try your hand at pottery making. After walking through the pottery village surrounded by beautiful satoyama, please enjoy relaxing time in a hot springs.
[Tourist facilities]・Museum of Ceramic Art, Hyogo ・Sue-no-Sato (shops, restaurant, workshop space, etc.)
* The pottery studios are concentrated on both sides of Yakimono-dori street for about 1.5 km from north to south.
◎Volunteer Guide: Tamba-Yaki no Sato Kiln Alley Walk
Contact: +81-79-597-2034 , Fee: 200 yen per person
◎ Sightseeing spot in the area : Senju-no-Mori(forest with walking trails), Wadenji Temple
◎ Go a little further: Karibaichi-Shuzo sake brewery Co., Ltd.
③ Enjoy nature! Outdoor attraction for parents and children
Tambasasayama is surrounded by rich nature. Why not take in the aura of nature and play to the full?
[Tourist facilities] Prefectural Tamba Namikimichi Chuo Park, Tamba Inomura(restaurant, camping site), Unitopia Sasayama (accommodation, restaurant, outdoor attractions) , Taste hunting, Prefectural Natural Park Taki Mountain Range
Taste Hunting Information of each facility
Remarks: Please contact each facility for details such as opening periods.
Moriguchi Kurien
> Address: Hongo, Tambasasayama, Phone:+81-70-1737-1212
Chestnut (Mid-September to Mid-October)
Grapes (Beginning to Mid-September)
Tamba Tabuchi Farm
>Address: Kuchisakamoto, Tambasasayama, Phone: +81-90-8650-0415
Strawberry (January-May)
Black Soybean Edamame (October)
Sweet potatoes (Mid-September to End of October)
Unitopia Sasayama
>Address: Yashiro, Tambasasayama, Phone: +81-79-552-5227
Black Soybean Edamame(October)
Sweet potatoes(Mid- September to Beginning of November)
Kuromame-no-Yakata
>Address: Shimoitati, Tambasasayama, Phone: +81-079-590-8077
Black Soybean Edamame (October)
Taki Mountain Range Prefectural Natural Park
A magnificent mountain range of 600 to 800m above sea level that extends to the north of the Sasayama Basin, this natural park stretches 20 kilometers from east to west.
There are some family-friendly trekking trails.
to Hiuchiwan by car or taxi… Hiuchiwan – Mt.Mitake(793m) – Otawa Route 301 – Hiuchiwan *total walking time is approximately 180 min.
to Kurikara Oku by taxi or bus… Kurikara Oku – Mt.Mitake(793m) – Hiuchiwan *total walking time is approximately 180 min.
◎ Sightseeing spot in the area:
・Tamba Traditional Craft Park – Sue no Sato : Experiencing pottery making in your own style, individuals or in groups.
・Tambasasayama Keikoku no Mori: A facility where you can enjoy outdoor activities and nature experiences.
・Prefectural Sasayama no Mori Park: A forest park where the scenery can be enjoyed in all seasons. Variety of Satoyama activities are also available!
 *Satoyama activities: Various nature activities such as playing in the woods or in the river, chopping the fire wood, etc., not easy to do in urban life.
④ Ajima Cycling Route
Ajima district is famous as the best tea growing area in Hyogo prefecture. Cycling along idyllic mountain roads lined with tea plantations, you can enjoy the atmosphere of a tea plantation village. We also recommend you to visit this area in November when the mountains are colored with autumn leaves, especially famous Daikokuji Temple.
Sasayamaguchi Station Cycle Port (Bicycle rental at the east exit) ▶ Tea plantation area▶ Daikokuji Temple ▶ Kumanoen(Tea plantation, Green tea factory, Green tea and sweets cafe) ▶ Bunpoji Temple ▶ Sasayamaguchi Station Cycle Port (return the bicycle) ▶ Tambasasayama Tourist Station (at the west exit, for tourist information, souvenirs, etc.)
*Please return the bicycle at Sasayamaguchi Station Cycle Port (on the east exit) by 5pm. *Nov.- by 4pm, Dec. to Feb.-closed
Bunpoji Temple
It is said that a long time ago, Hodo Sennin, a hermit, has descended here and found this temple. There used to be 33 small temples in the mountain, but now only three remain. It's blessed with cultural assets such as Romon, two-storied gate, and multistoried pagoda, as well as the scenic spots. There is a mountain trail leading to Mt. Shiraga behind the temple.
Futamura Shrine
It is the guardian deity shrine of seven neighboring villages in Ajima area. In 1482, the portable shrine had been brought back to this village from Futamura shrine in Miuchi , because of dispute among the villages. Thus, the shrine was established in its present location.
◎ Sightseeing spot in the area: Mt. Shiraga(722m), Hyogo Prefectural Tamba Namikimichi Chuo Park, Agricultural Association Agri-Healthy Farm, Zensho Tannan Saryo(Japanese style restaurant)
◎ Go a little further: Udo Kannon, Guzei-ji Temple
⑤ Walking around Fukusumi
Fukusumi district is a former post town heading from Sasayama castle to Kyoto. In December 2012, it was designated as an Important Preservation District for Groups of Traditional Buildings. There are many buildings of merchant houses unique to the Tamba region that look like Irimoya-zukuri at first glance. You can feel the strong impression of the former post town in the townscape. The rustic atmosphere is perfect for a relaxing walks.
Yasuda's Osugi(Big cedar tree in Yasuda) ▶ Sanbaya Higuchi (local community space) ▶ Fukusumi Station site ▶ Maruyama Inari shrine ▶Sumiyoshi Shrine
Fukusumi townscape
Spacious and stately buildings with a wide frontage stand along the old highway of Edo period. It has been an important area on the San-in-do highway since ancient times, and has been called the Kyokaido highway in the Edo period. As Fukusumi was the first post town in the Sasayama clan, commercial transactions were active, also Hatago inn and merchant houses were lined up on the street. Remnants of the townscape and the shops still remain everywhere in the town.
Maruyama Inari Shrine and Momii Castle Ruins
Funaokayama has a cute round shape with thick forest. The ruins of Momii Castle can be seen on the other side. Momii Castle is a mountain castle built around 1500 CE. The castle fell after being defeated by Akechi Mitsuhide's invasion of Tamba. You can see the remains of Yamashiro (mountain castle) from the Warring States period on the well maintained walking trail.
◎Designated as an Important Preservation District for Groups of Traditional Buildings by Agency for Cultural Affairs of Japan (external link)